Scania chassis with 13-litre LBG/LNG/CBG/CNG engine to help decarbonize long-distance travel
Scania recently introduced a new generation high-floor Scania K-chassis, with the big novelty of a new 13-litre gas engine that will allow touristic travels with low environmental impact, not least given its ability to be powered by liquified biogas. "Our 13-litre gas engine and new tank options facilitate travel operators to switch to biogas without issues with range […]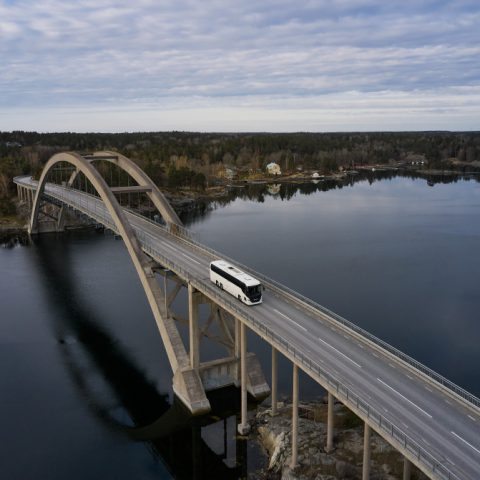 Scania recently introduced a new generation high-floor Scania K-chassis, with the big novelty of a new 13-litre gas engine that will allow touristic travels with low environmental impact, not least given its ability to be powered by liquified biogas.
"Our 13-litre gas engine and new tank options facilitate travel operators to switch to biogas without issues with range and while still providing the power needed for any operation. Another upside is that it doesn't take a huge investment," says Jonas Strömberg, Sustainability Director, Scania Buses & Coaches.
New 13-litre gas engine will power Scania LGB/LNG coach
The new 13-litre gas engine from Scania can run on both biogas and natural gas, or on a combination of the two. Then, operators can strive for the more sustainable biogas option, but still have the option to use natural gas when needed. Running on biogas, CO2 emissions can be reduced by up to 90% compared to traditional diesel, Scania underlines.
The motor delivers a maximum torque of 2,000 Nm between 1,100 and 1,400 Nm, while maximum output (302 kW) is achieved at 1,900 rpm. "In other words, the 13-litre engine offers the power and torque of equivalent diesel engines, meaning it can handle even the toughest challenges. This makes it the most sustainable, yet viable powertrain option on the market for long-distance operators", continues Strömberg.
In addition to reducing emissions, gas driven powertrains are also quieter than their diesel counterparts, while also reducing operating costs.
What is more, the new 13-litre gas engine from Scania can run on both liquified gas (LBG/LNG) and compressed gas (CBG/CNG). With the option to use liquified gas, range is substantially increase compared to compressed gas, making it suitable also for high-mileage operations. And the new gas engine is just one of many alternative fuel options that Scania offers for its new coaches, which also come with several other new features and benefits.
"With an outstanding driver environment and significantly improved load capacity, passenger comfort, and fuel efficiency, our new generation will take you far. And with a range of sustainable powertrain options, they can even take you to Paris", Strömberg concludes.
For more information, please visit the SCANIA TRAVEL SHOWROOM.