Zenobe provides financing and services for en electric coach for the first time. A deal with Airsym in England
Zenobē enters a partnership with Airsym, a transport provider for airlines, airports and ground handling companies, to launch into service a brand-new Yutong TCe12 electric coach, in England. The coach will be used as part of a shuttle service for McClaren Automotive, transporting staff from Woking train station to the company's headquarters during the working […]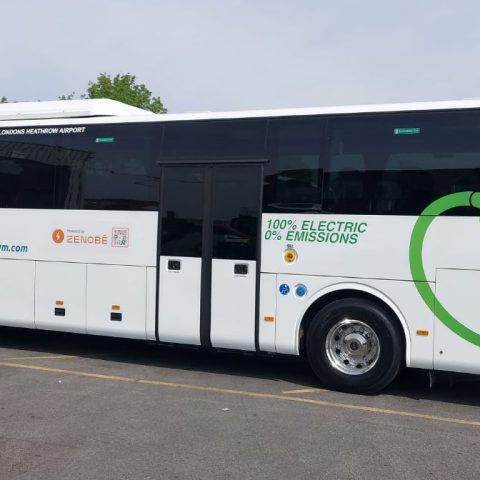 Zenobē enters a partnership with Airsym, a transport provider for airlines, airports and ground handling companies, to launch into service a brand-new Yutong TCe12 electric coach, in England.
The coach will be used as part of a shuttle service for McClaren Automotive, transporting staff from Woking train station to the company's headquarters during the working week. On the weekends, it will be the first electric coach to operate airside at London Heathrow airport, shuttling airline crew to local hotels.
In its first step into the coach sector, Zenobē will be providing the financing and a managed service for the on-coach battery over the course of eight years.
Zenobe takes first step in electrification coach journeys
Although electrification of coaches is still quite far away, with 74% of these vehicles in EMEA expected to be not electrified in 2030 (according to consulting firm Interact Analysis), Zenobe underlines that transitioning coach fleets to zero emission alternatives will save around 56,000 tonnes of carbon over the next decade and reduce emissions of nitrogen oxides equivalent to £225m in public health damage cost savings.
Zenobe, Airsym, Pelican
Steven Meersman, Co-Founder and Director of Zenobē, said: "We're thrilled to be expanding into the coach sector and embarking on this journey together with Airsym. The coach industry faces several unique challenges to decarbonisation but through the right partnerships, it can today make the first step on this journey.
Allen Jey, Managing Director of Airsym, said: "We're delighted to add this new electric coach to our fleet and offer our customers a cleaner way to travel. Electrification is clearly the direction the industry is moving in, and we look forward to working with Zenobē, drawing on its expertise and extensive experience, to make a step on this journey."
Phil Hodgson, Area Sales Manager at Pelican Bus and Coach, said: "Pelican is delighted that Zenobē has provided vehicle financing on a new asset class of vehicles in the UK by financing a Yutong zero emission electric coach to Airsym. We see this as a fantastic enabler to begin to transition the coach industry to net zero. Yutong has over 133,000 zero emission vehicles in service, operating over 29.3 billion kms. Our vehicles are tried, tested and proven."