Irizar is ready to launch CNG and LNG intercity buses and coaches
Irizar is ready to launch CNG and LNG intercity buses and coaches (with Scania chassis). The first vehicle that will be brought to market will be the Irizar i4 CNG, a Class II bus in the version H with 12,920 mm length. But the range of vehicles soon equipped with gas drives is much wider. […]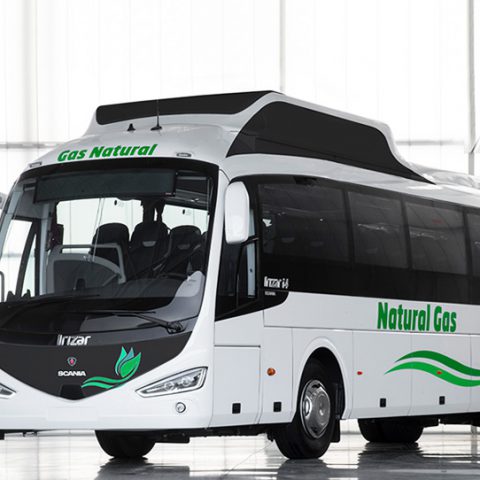 Irizar is ready to launch CNG and LNG intercity buses and coaches (with Scania chassis). The first vehicle that will be brought to market will be the Irizar i4 CNG, a Class II bus in the version H with 12,920 mm length. But the range of vehicles soon equipped with gas drives is much wider. Also a touristic coach will be part of the gas-powered Irizar family, with LNG drivetrain.
The range of gas vehicles with Irizar logo includes indeed the Irizar i4 and Irizar i3le models from 12 to 15 metres in CNG version and Irizar i4, Irizar i6 and Irizar i6S from 12 to 15 metres in the LNG version, all on Scania chassis. Irizar hasn't released so far information with regards to timing for the launch of these models, but it says it already has orders for these coaches in its portfolio.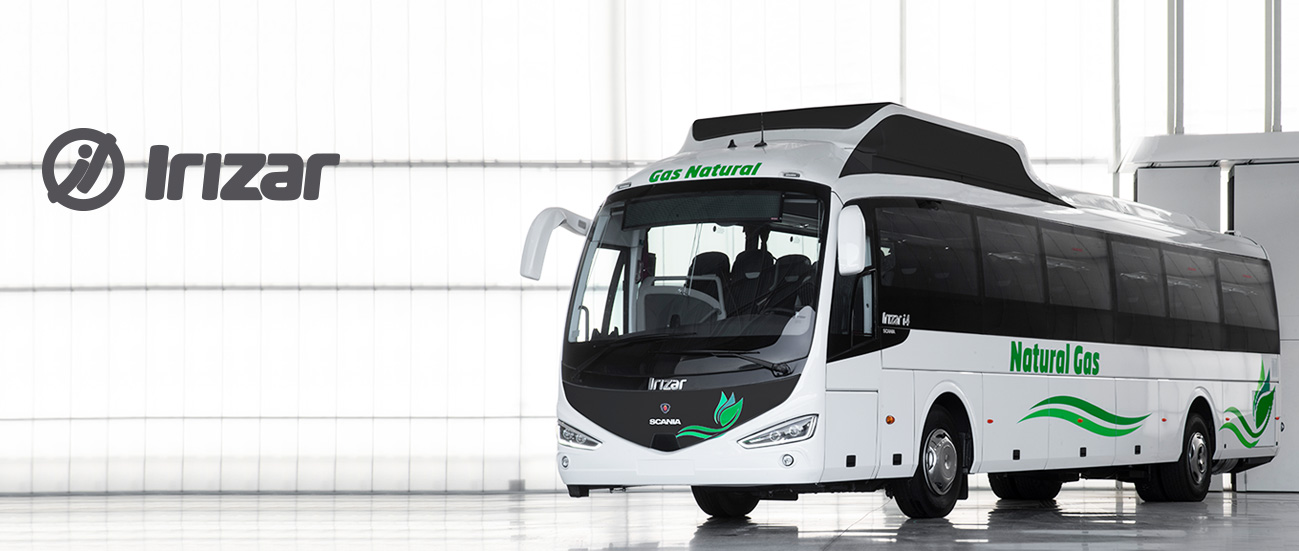 Irizar i4 CNG, soon ready for market
Focusing on the equipment of the Irizar i4 CNG, it'll have a total weight of about 750 kg. It will incorporate 4 longitudinal type IV CNG cylindrical tanks, with a total volume of 1260 dm3 and an approximate gas capacity of 240 kg. However, depending on the needs of the operator, it can be fitted with an additional tank to increase range. It is also fitted with a filling panel with two gas outlets and a pressure gauge. The integration of the storage tanks preserves the aesthetics and aerodynamics of the vehicle and means it can perform the same type of service as a similar diesel vehicle with optimum road holding and maximum safety.
Irizar gas bus, both in CNG and LNG version
Irizar group points out that «The environmental benefits offered by coaches with this technology reduce CO2 emissions by between 20 and 25%, NOx by up to 60% and emissions of particulate matter by over 98%. In addition to higher thermal performance than diesel, vibrations and noise emissions are also minimized by between 4-5 dB. In relation to operating cost, it is estimated that its reduction can reach up to 35% of the total cost of consumption and maintenance, depending on the differential between the cost of gas and diesel. The maintenance cost remains similar to that of a conventional diesel vehicle»
The vehicles, Irizar says, are set to have a range of up to 500 km in the CNG version and twice as long in the LNG technology.