Accelera by Cummins, Daimler Truck and Paccar intend to produce battery cells for electric CVs in the USA
Accelera by Cummins, Daimler Truck and Paccar announce a partnership for manufacturing of battery cells for electric commercial vehicles and industrial applications in the United States". Total investment is expected to be in the range of $2-3 billion for the 21-gigawatt hour (GWh) factory. Such a plant, "operating at full capacity in 2026 would provide enough […]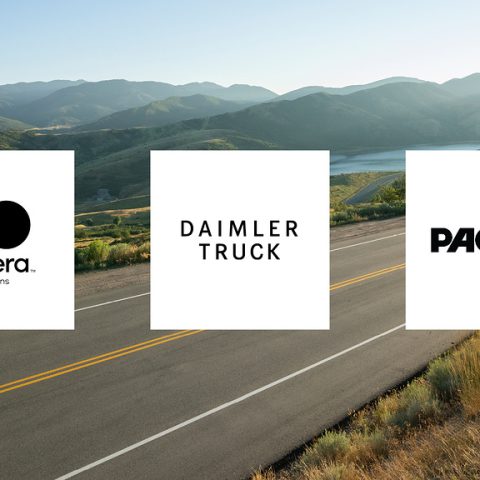 Accelera by Cummins, Daimler Truck and Paccar announce a partnership for manufacturing of battery cells for electric commercial vehicles and industrial applications in the United States".
Total investment is expected to be in the range of $2-3 billion for the 21-gigawatt hour (GWh) factory.
Such a plant, "operating at full capacity in 2026 would provide enough batteries for the entire North American market for all battery electric buses and medium and heavy duty trucks combined, assuming about 10% of trucks are electric in that year", commented Jamie Fox, Principal Analyst at consulting company Interact Analysis.
Accelera by Cummins, Daimler Truck and Paccar together starting from LFP
Announced in early 2023, Accelera by Cummins is the new brand of Cummins New Power business unit. It'll be holding 30% of the JV, as well as Daimler Truck and Paccar. What is interesting, the partners states they "will initially focus on the lithium-iron-phosphate (LFP) battery technology family for commercial battery-electric trucks". LFP battery cells manufacturer EVE Energy, from China, is set to serve as the technology partner in the joint venture with 10% ownership.
Partners say that "The LFP battery cells produced by the joint venture will be able to offer several advantages compared to other battery chemistries, including lower cost, longer life, and enhanced safety, without the need for nickel and cobalt raw materials".
Accelera by Cummins, Daimler Truck and PACCAR expect to see growing demand for battery technology throughout this decade and U.S. customers will benefit from a state-of-the-art dedicated battery cell factory.
Battery industrialization gets shape
"We have the responsibility to decarbonize in a way that is best for all of our stakeholders and the planet. This requires working closely with key partners. This announcement reflects that action. Not only are we advancing a key technology solution for our customers, but accelerating the energy transition in the United States," said Jennifer Rumsey, Cummins Chair and Chief Executive Officer.
"Our vision is the highest quality, locally produced battery technology to enhance the operations of our customers and help them achieve their operational and environmental goals," said Preston Feight, Paccar Chief Executive Officer.
Martin Daum, CEO of Daimler Truck said, "For Daimler Truck, partnerships and a strict focus on costs and smart capital allocation are the key levers to succeed on the path towards sustainable transportation. This planned joint venture enables economies of scale beyond Daimler Truck. It is a key puzzle piece of our battery industrialization strategy, ensuring access to the right battery cell technology at the right cost."
Jamie Fox, Principal Analyst at consulting company Interact Analysis, commented: "21 gigawatt hour (GWh) is a very big number in the context of trucks and buses. A 21 GWh plant in 2028 would amount to around a 40% share of all electric buses and medium and heavy trucks – assuming 22% of trucks are electric in that year. However the share would be much lower if light-duty trucks are included in the target markets, or the plant also targets international markets beyond North America. Some may want to wait and see until the factory has actually been built, but this announcement is big enough to make people who took a bearish stance on electric trucks in North America reconsider their position.
Battery packs in trucks and buses can have double the per kWh price that passenger cars have – this factory may contribute towards developing economies of scale that can reduce this gap. Energy storage, industrial and off-road applications are also possible target markets, but would likely only contribute a minority of the total sales from the plant."