Electric vehicle charging infrastructure: Cummins-Heliox agreement
Cummins and Heliox have announced the signing of an agreement to sell and service electric vehicle chargers in North America. The agreement includes the market introduction of a 50 kW DC mobile charger, "Mobile 50," and a 180 kW fixed DC charging system, "Flex 180". EV charging, the solutions Mobile 50 is a solution that […]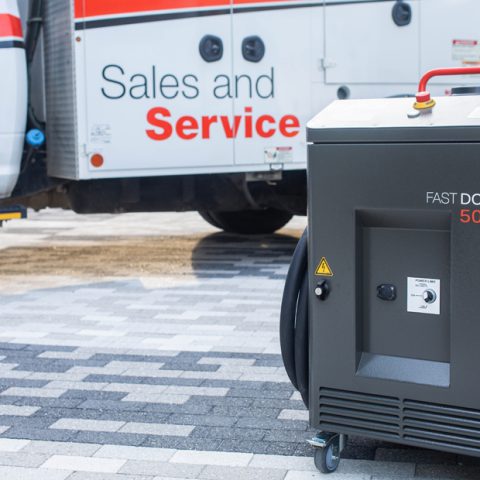 Cummins and Heliox have announced the signing of an agreement to sell and service electric vehicle chargers in North America. The agreement includes the market introduction of a 50 kW DC mobile charger, "Mobile 50," and a 180 kW fixed DC charging system, "Flex 180".
EV charging, the solutions
Mobile 50 is a solution that connects easily to 480 V AC wall outlets and can be used anywhere there is a compatible power source. Its portable design requires no fixed installations, which will save fleets thousands in infrastructure costs The Flex 180 solution offers up to three dispensers capable of static, sequential, and dynamic recharging for optimal charging flexibility for fleet customers. Dispensing options can be either plug-in or pantograph for transit bus customers.
"We have a storied history of building innovative partnerships that combine strengths to create incremental value for our customers. Our relationship with EV charging partners builds on this legacy, and we are excited to work together to better serve customers who rely on battery electric technology. It's yet another step in our journey to Destination Zero", said Zach Gillen, General Manager of Cummins Sales and Service North America. "Our collaboration with Heliox will deliver a reliable solution to support fleet customers in reaching their sustainability and emissions goals", he added.
"We look forward to working with Cummins to accelerate their efforts to provide electric vehicle charging solutions for fleets. Charging infrastructure is a critical component in adopting electrified technology, and we're proud to play a role in helping Cummins customers on their journey to zero emissions vehicles" said Michael Colijn, CEO of Heliox.