New add in Schunk's smart charging product line for the US. A pantograph for depot charging
The new Schunk SLS 301 series variant introduces a ELT recognized pantograph with variable operating heights, aimed at promoting quicker and safer hands-free electric vehicle charging. With easy integration into existing and new infrastructure requirements, its compact size increases usable floor space allowing for maximized parking spaces within your structure, the supplier says. Schunk points […]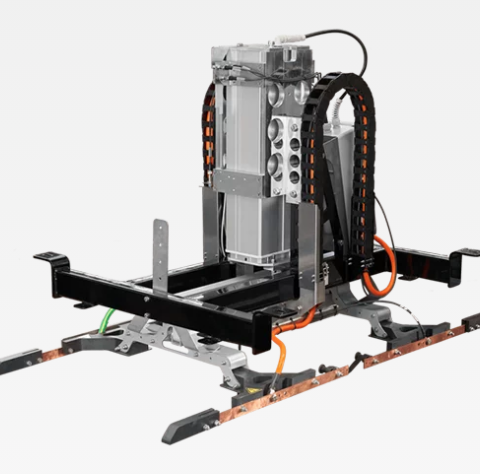 The new Schunk SLS 301 series variant introduces a ELT recognized pantograph with variable operating heights, aimed at promoting quicker and safer hands-free electric vehicle charging. With easy integration into existing and new infrastructure requirements, its compact size increases usable floor space allowing for maximized parking spaces within your structure, the supplier says.
Schunk points out that «Through series connection, multiple Depot Pantographs in series can provide needed power from one main changing source. This allows for maximized charge times, through charger managed current output to mix state of charge arriving vehicles. Schunk's exclusive method of connection actuation provides high power current transmission safely, despite vehicle moments (air pressure changes or vehicle kneeling options) that may cause connection failures. As a Buy America compliant pantograph, additional costs savings maybe attained through federal and state Energy and Carbon Emission Reduction Programs».
Other benefits include compact vertical actuation of the pantograph with no swing-out method of lowering, multiple interface options for charger and vehicle control integration (including CAN), high grade aluminum and steel structure with safe cable routing
Applications to consider for use of the SLS 301 Depot series include electric bus depots and transfer stations, EV delivery vehicles, automated guided vehicles, and other material handling equipment.