Solar power for buses: here's the Sono Motors-ÖPNVService partnership
Implement solar retrofit technology – the Solar Bus Kit – to power buses with energy from the sun, thereby reducing fuel consumption and greenhouse gas emissions into the atmosphere. These are the goals written in the letter of intent signed by Sono Motors and ÖPNVService. As part of the partnership, the companies are expected to […]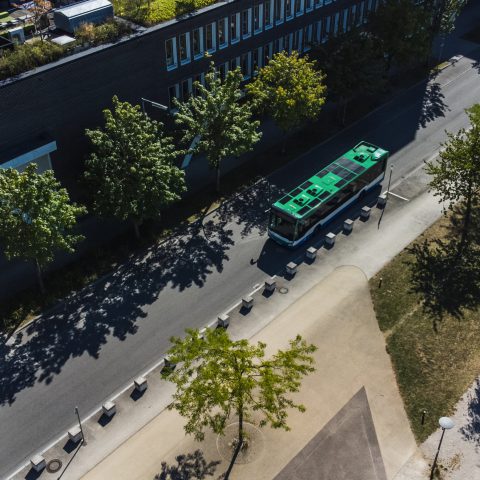 Implement solar retrofit technology – the Solar Bus Kit – to power buses with energy from the sun, thereby reducing fuel consumption and greenhouse gas emissions into the atmosphere. These are the goals written in the letter of intent signed by Sono Motors and ÖPNVService.
As part of the partnership, the companies are expected to collaborate on kit installation, after-sales services and logistics to increase assembly capacity in Europe and provide professional and prompt services and maintenance. ÖPNV-Service has more than 15 years of experience as a service provider in the public transportation sector and performs 4,000 commercial vehicle retrofits each year.
The Solar Bus Kit from Sono Motors
This is a versatile and simple solution optimized for the most common types of 12-meter buses on the European market, such as the Mercedes-Benz Citaro and MAN Lion City. It allows subsystems such as heating, ventilation and air conditioning (HVAC) to be installed, to be partially powered by renewable energy, saving fuel, CO2 and costs. Specifically, the system saves up to 1,500 liters of diesel fuel and up to 4 tons of CO2 per bus per year, all thanks to an installation of about 1,4 kW peak power with about 8 square meters of solar panels. Bus fleet operators can expect a potential payback time of about 3-4 years, depending on days of use.
«While the transition of public transportation towards a zero-emission future will still take a few years, the Solar Bus Kit is a solution that enables an immediate response to new emission regulations, like the Euro 7 standard, and increasing energy prices. To meet the needs of the industry and help our bus operators to cut costs and emissions throughout their fleets, we were looking for a partner who can support us with implementing our Solar Bus Kit», says Laurin Hahn, CEO & co-founder of Sono Motors.