UK, Equipmake calls for more incentives to accelerate e-bus transition
Equipmake welcomes the recently announced changes to the UK government's Bus Service Operators Grant (BSOG), which now includes zero-emission buses for the first time, including vehicles repowered with electric drivetrains – but the company calls for more incentives to encourage operators to make the transition to electric. To understand it, BSOG is a subsidy paid […]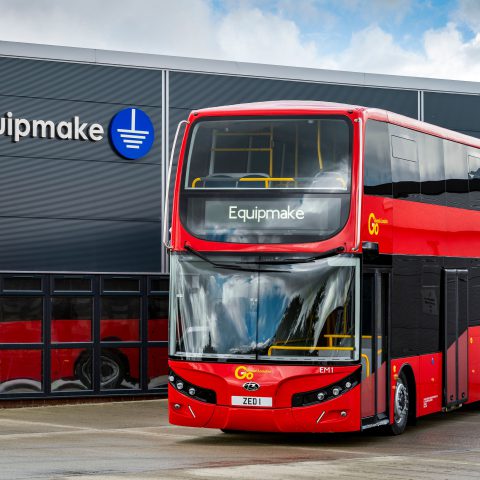 Equipmake welcomes the recently announced changes to the UK government's Bus Service Operators Grant (BSOG), which now includes zero-emission buses for the first time, including vehicles repowered with electric drivetrains – but the company calls for more incentives to encourage operators to make the transition to electric.
To understand it, BSOG is a subsidy paid to bus service operators and community transportation organizations to help them recover some of their fuel costs, with the amount received based on their annual fuel consumption. By reducing their expenses, BSOG aims to help operators keep passenger fares low and allow them to operate services that might otherwise be unprofitable.
Until now, new electric buses and ICE buses repowered with state-of-the-art EV powertrains have not been eligible for BSOG, which has been a significant disincentive for operators to embrace electrification, while simultaneously prolonging the use of polluting vehicles. Revisions to the scheme have finally addressed this issue, including a new Zero Emission Bus (ZEB) incentive for the first time with a rate for electric buses, whether for new or repowered vehicles, set at 22 pence per kilometer.
Ian Foley, Managing Director, Equipmake, said: «The Bus Service Operators Grant being updated to include electrified buses is a welcome and necessary step in the right direction and one Equipmake has advocated for some time. By repowering buses with electric power, the technology exists to bring cleaner air to every town and city in the UK very rapidly indeed. Along with new electric buses, repowered buses represent a historic opportunity to deliver a transformation to sustainable mobility that must not be wasted. We know there is a clear appetite for this. While national new bus sales are massively down, we are seeing strong demand and have plans to expand our facility, creating 180 jobs, bringing the total number of staff employed at Equipmake to 255. The changes to BSOG will only increase interest and will hopefully help repowered electric buses consign the diesel-powered bus to the history books, where it belongs».
The Jewel E e-bus from Equipmake
At its Norfolk facility, Equipmake has developed cutting-edge solutions that are now eligible for the program in the form of a new electric bus, the Jewel E, and a repowering program that upgrades existing hybrid and diesel buses with state-of-the-art battery powertrains.
Equipmake's repowering technology can be applied to both single and double-decker buses; the process is fast and involves up to five repowerings per week to ensure that a functioning bus is kept off the road for the shortest amount of time possible.
Each repower is tailored to the operator's specific needs, with simulated service routes to ensure that the correct level of battery power is selected for optimal performance and efficiency, and that 150- to 250-mile driving intervals are guaranteed. This is more than enough for a full service cycle, allowing the buses to be recharged overnight.
In addition to bringing environmental benefits, Equipmake's repowering program makes sense from a cost perspective, with each conversion coming in at less than half the price of a new electric bus. And with most buses expected to remain in service for 14 years or more, operators can still achieve significant efficiencies by repowering a bus in the middle of its working life.
However, while supporting the BSOG ZEB incentive, Equipmake believes there is still more that can be done to encourage widespread adoption of electrified buses. At around £400,000, the upfront cost of a new electric bus remains a significant hurdle for many, which is why Equipmake is calling on the government to further incentivize the zero-emission transition by implementing a new funding strategy that includes subsidies for new – and even repowered – electric buses.
Ian Foley continued: «The value of repower technology is still not fully appreciated. If the government funded 75% of the difference between a diesel bus and a new electric one, the operator would pay £250,000 and the government £150,000. But change that business model to include a British-built electric repower and the Treasury's contribution is reduced, while the cost to the operator is halved. Not only does this represent a significant saving on the purchase price of a new hybrid or diesel vehicle, but EV buses also have far lower operating costs, too. The opportunity is clear for all to see. Repowering the drivetrains of existing buses with electric technology at scale can rapidly and dramatically reduce pollution and provide the UK bus industry with a much-needed shot in the arm. The government must seize the initiative and make it happen, and contributing to conversions would be an ideal way of doing so».