18 Proterra electric buses for New York airports
18 Catalyst E2 electric buses have been purchased by the Port Authority of New York and New Jersey. They'll be used for shuttle service at John F. Kennedy International Airport (JFK), Newark Liberty International Airport (EWR) and LaGuardia Airport (LGA). The order represents one of the largest electric bus fleet commitments of any airport authority in the United […]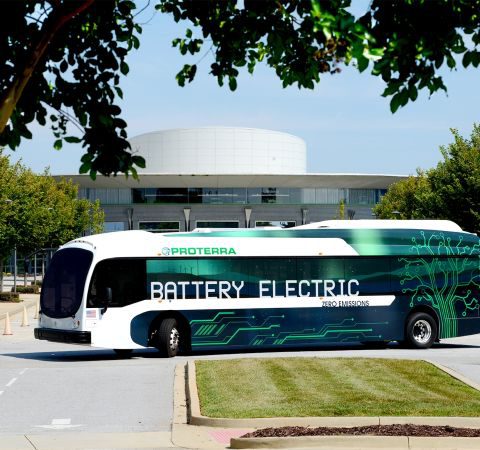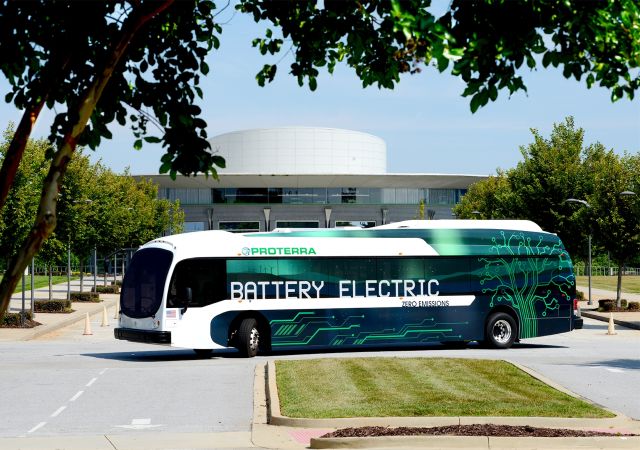 18 Catalyst E2 electric buses have been purchased by the Port Authority of New York and New Jersey. They'll be used for shuttle service at John F. Kennedy International Airport (JFK), Newark Liberty International Airport (EWR) and LaGuardia Airport (LGA). The order represents one of the largest electric bus fleet commitments of any airport authority in the United States. Six of the battery-electric buses are already in service at JFK, with LGA and EWR to each deploy six more in 2019.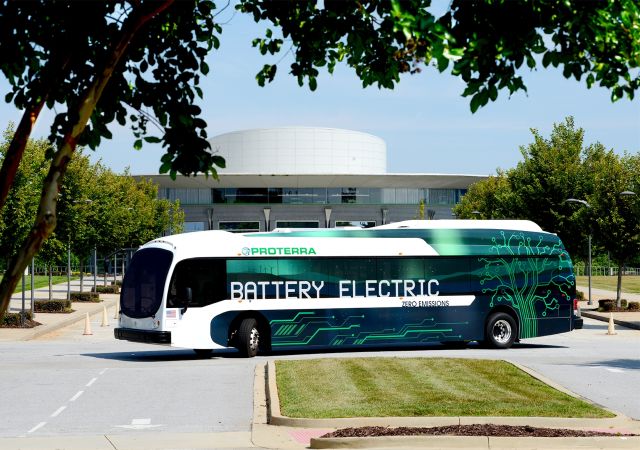 New Yorks to reduce greenhouse emissions by 40 percent by 2030
The JFK buses, as reported in the press communication released by Proterra, were purchased with the aid of rebates offered through the New York Truck Voucher Incentive Program, which supports Governor Andrew M. Cuomo's ambitious clean energy goals to reduce greenhouse gas emissions 40 percent by 2030. Administered by the New York State Energy Research and Development Authority, the Truck Voucher Incentive Program provides point of sale rebates to reduce the cost for businesses and government entities that want to purchase new clean vehicles or retrofit commercial vehicles and buses into hybrids, natural gas vehicles or zero-emission vehicles. The rebate reduces the incremental costs of purchasing advanced alternative fuel technology heavy-duty trucks and buses by up to 80 percent. Since 2013, it has provided almost 600 rebates for trucks and buses throughout the State.
Proterra expanding across the East Coast
In 2016, the Port Authority won the Green Fleet Award, which recognized it as the greenest fleet among the nation's airports. Using 18 battery-electric Catalyst buses instead of diesel vehicles can avoid approximately 49.5 million pounds of CO2 emissions over the 12-year lifespan of the buses and save more than 2 million gallons of diesel fuel. "The Port Authority continues to look for innovative and eco-friendly ways to support the growth of its airports," said Port Authority Executive Director Rick Cotton. "By providing a more sustainable airport and delivering an enhanced passenger experience, we are continuing our commitment to reduce the agency's carbon footprint." The Port Authority operates JFK, LGA and EWR, which together comprise the busiest airport system in the United States. JFK serves more than 59 million passengers annually, including the most international passengers of any airport in the United States, with 32 million per year. The JFK introduction expands Proterra's electric vehicle footprint across the East Coast, supporting New York and New Jersey's goals of increasing transportation resilience, reducing congestion and improving air quality. Earlier this year, Proterra delivered five Catalyst buses to New York MTA under a three-year lease program, as part of MTA's first deployment of electric buses.
Airports eligible for grants
To date, Proterra states, seven U.S. airports have now ordered or deployed Proterra electric buses, including Silicon Valley's Norman Y. Mineta San José International Airport (SJC), Raleigh-Durham International Airport (RDU), Sacramento International Airport (SMF) and Honolulu International Airport (HNL). Earlier this fall, the Senate signed into law a five-year FAA Reauthorization Bill, which expands zero-emission vehicle and infrastructure funding under the Voluntary Airport Low Emissions (VALE) Program. U.S. airports are now eligible for VALE program grants in non-attainment areas used to carry passengers to off-airport locations on dedicated airport-only duty cycles, and the FAA funding can also be combined with a battery or bus lease.
Proterra buses are designed and manufactured in America
"This deployment represents one of the largest commitments to zero-emission vehicles of any airport authority in the U.S., and we applaud the Port Authority's goal of converting their entire bus fleet to electric vehicle technology," said Ryan Popple, CEO of Proterra. "We're proud to help New York and New Jersey introduce electric bus technology throughout the Port Authority airport system. Kennedy, LaGuardia and Newark Liberty airports are a gateway to our country. Clean, quiet, Proterra electric buses – designed and manufactured in America – will make a wonderful first impression on travelers from all over the world."