Abellio's 111th electric bus (by Wrightbus) goes into operation in West London
Abellio is celebrating the launch of its full electric fleet on Route 111 in West London. This growth in EV vehicles sees the company's 111th electric bus going into operation, on route 111. The new fleet of electric buses operating on route 111, consisting of Wrightbus Electroliner vehicles, will be based at Abellio's Twickenham depot, […]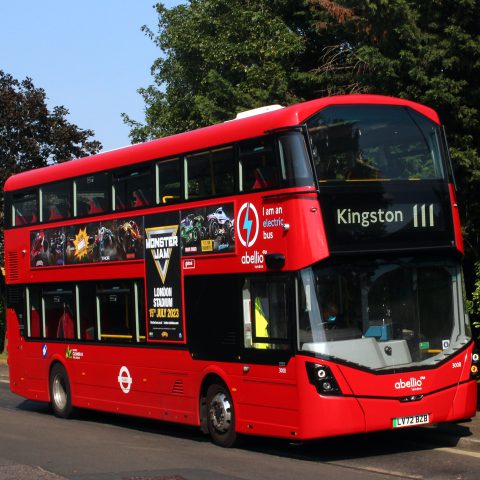 Abellio is celebrating the launch of its full electric fleet on Route 111 in West London. This growth in EV vehicles sees the company's 111th electric bus going into operation, on route 111.
The new fleet of electric buses operating on route 111, consisting of Wrightbus Electroliner vehicles, will be based at Abellio's Twickenham depot, that has been completed sensitively, noting that the building is itself a piece of London's transport history having opened in 1902, originally housing trams and trolleybuses. UK Power Networks fast-tracked the delivery of 3.8 megawatts of electricity capacity to the depot through its Green Recovery scheme, working with Abellio Bus London and TfL.
Abellio launches 111th electric bus in London
The Wrightbus Electroliners are designed with customer comfort in mind and offer a high-spec interior full of innovative features, similar to Abellio's Route 63. The buses have high back seats throughout. USB chargers and mobile phone holders are featured in the seats allowing customers to stay connected whilst traveling.
"Seating has been carefully designed to be comfortable and accessible with priority seats highlighted and a larger wheelchair and buggy area. Digital signage on board the buses shares a range of real-time information, including the time to the next stop, disruptions, space on the next bus, and service updates for Tube, Overground, and DLR services. There is dedicated signage for the wheelchair area, making it easier for customers in this space to access the information they need", Abellio says.
Jon Eardley, Managing Director of Abellio London said: "We are delighted that our 111th EV bus has started service in London on route 111. Abellio is leading the way in providing cleaner and more comfortable electric transport for our customers. We are incredibly proud of this milestone moment for our business".