Alexander Dennis will provide 35 battery-electric Enviro500EV in Hong Kong
Alexander Dennis has been chosen in a competitive tender by Hong Kong's MTR Corporation to supply 35 battery-electric Enviro500EV double deck buses. They'll be delivered throughout 2025 and 2026. The new generation models for UK and Ireland have been released recently.  MTR Corporation provides Hong Kong's Mass Transit Railway urban rail system including a network of […]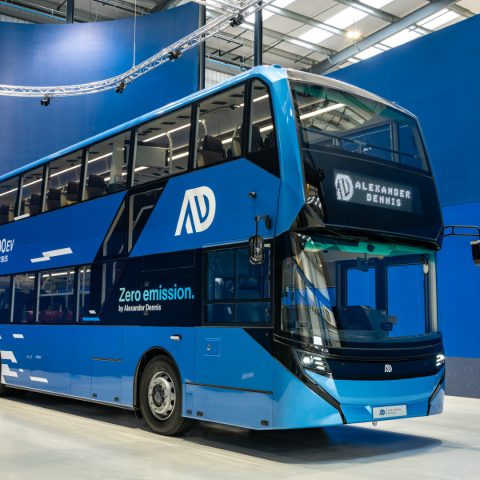 Alexander Dennis has been chosen in a competitive tender by Hong Kong's MTR Corporation to supply 35 battery-electric Enviro500EV double deck buses. They'll be delivered throughout 2025 and 2026. The new generation models for UK and Ireland have been released recently. 
MTR Corporation provides Hong Kong's Mass Transit Railway urban rail system including a network of feeder bus services, for which it operates a fleet of 172 buses. Most of them have been supplied by Alexander Dennis from its Enviro200, Enviro400 and Enviro500 vehicle ranges, ADL points out. 
New generation Alexander Dennis e-buses for Hong Kong
The Enviro500EV has been fully designed in-house by Alexander Dennis's engineering team as part of the manufacturer's next generation of zero-emission buses. Its 472kWh batteries are supplied by Impact Clean Power Technology to a future-proof design that allows for upgrades to benefit from advances in battery technology without structural modifications. Power is transmitted through the heavy-duty Voith Electrical Drive System, with 410kW peak and 310kW continuous output.
Andy Boulton, Managing Director Asia Pacific for Alexander Dennis, said: "We are delighted to have been chosen by the MTR Corporation as partner for the transition to zero-emission bus services. Our Enviro500EV has been designed from the ground up for the demands of Hong Kong's world class transport system, ensuring that this transformational investment in cleaner transport will deliver for the MTR Corporation."