Bad Tölz (Germany) gets its first e-buses from Ebusco
Ebusco has completed deliveries of four e-buses in Bad Tölz, Germany. The vehicles were showcased by the operator RVO. According to the local media Merkur.de, the battery-electric buses from the Dutch manufacturer had a cost of 500,000 euros each. Bad Tölz gets its first e-buses from Ebusco The new vehicles for Bad Tölz, in Upper […]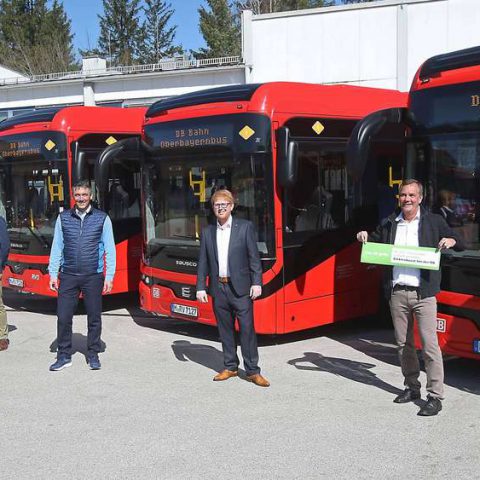 Ebusco has completed deliveries of four e-buses in Bad Tölz, Germany. The vehicles were showcased by the operator RVO. According to the local media Merkur.de, the battery-electric buses from the Dutch manufacturer had a cost of 500,000 euros each.
Bad Tölz gets its first e-buses from Ebusco
The new vehicles for Bad Tölz, in Upper Bavaria, are part of a twelve-year funding project of the Federal Ministry for the Environment and Nature Conservation. In the framework of the project, 80 per cent of the additional costs compared to a bus with a combustion engine (about 180,000 euros) are subsidised.
The Ebusco 2.2 buses for Bad Tölz feature a battery capacity of 325 kW/h. On board there is room for 39 seated passengers (and 88 in total).
The buses are designed that they only need to be connected to the depot at night, as they have a range of over 350 km with a single battery charge according to the Dutch producer. In this way they can provide their daily services without the need for opportunity charging with a pantograph.