BYD eBus B19 and the joint-developed e-bus with Castrosua presented at UITP Summit
BYD showcases two of its latest eBus innovations at UITP 2023 from Stand 7G 100 in Hall 7. On display is the all-new BYD eBus B19 (18.75-metre) and the first ever customised BYD-Castrosua 12-metre eBus, equipped with BYD advanced chassis and Castrosua NELEC body, following a joint manufacturing announced in last autumn 2022. The all-new […]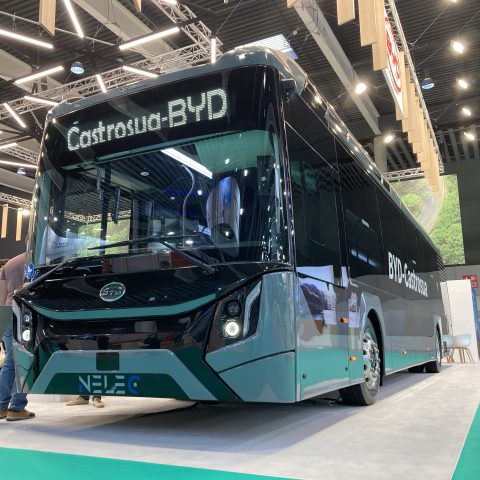 BYD showcases two of its latest eBus innovations at UITP 2023 from Stand 7G 100 in Hall 7. On display is the all-new BYD eBus B19 (18.75-metre) and the first ever customised BYD-Castrosua 12-metre eBus, equipped with BYD advanced chassis and Castrosua NELEC body, following a joint manufacturing announced in last autumn 2022.
The all-new BYD eBus B19 utilises BYD Iron-Phosphate Battery Technology. The larger battery capacity (maximum 563 kWh) provides a longer range on a single charge (up to 470 km under SORT II) as well as the operational convenience of faster charging (maximum 300 kW), with the quality assurance of BYD's long-term battery warranty, the group states.
BYD adds that "BYD eBus B19 is built on BYD's advanced chassis, including a deeply integrated electric powertrain. BYD's innovative 6-in-1 Controller, integrates 6 critical components including the motors, the steering motor controllers, air compressor controller and DC-DC converter, effectively unifying the entire ecosystem of the bus for improved reliability, and ease of maintenance. BYD's Battery Thermal Management System ensures the battery temperature stays at the optimum operational temperature increasing safety, reliability, as well as enhancing the life of the battery, bringing energy saving benefits too".
BYD Castrosua bus launched
Making its exhibition debut, is the first customised BYD-Castrosua 12-metre eBus equipped with Castrosua's NELEC body with a capacity for up to 92 passengers.
With up to 422 kWh battery capacity, the 12-metre eBus has a range of up to 450 km with single charge making it a practical option for many operators. BYD's chassis is integral to the efficiency of the 12-metre eBus. It features "BYD's innovative 6-in-1 controller integrating the entire eco-system, as well as benefiting from the highly efficient Battery Thermal Management System, that has been developed inhouse by BYD to increase battery safety, reliability and longevity ensuring the battery stays at the optimum temperature".
This important collaboration between BYD and Castrosua brings customers the option of tailor-made designs, spanning both the interior and exterior, to suit specific design and equipment requirements. This extends to a range of safety equipment, such as lane change warning and cameras for improved driver visibility, as well as intelligent driving assistance systems that exceed current mandatory standards.