California, Santa Barbara MTD full electric by 2030
100 percent electric bus fleet by 2030. Californian public transport company Santa Barbara MTD's Board of Directors has adopted this goal for the transition to a full electric fleet. 14 out of 112 buses of MTD's fleet are already zero emission: the operator prides itself to boasts the second largest active electric bus fleet in California. A […]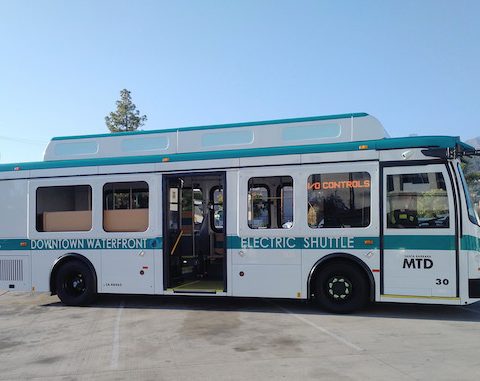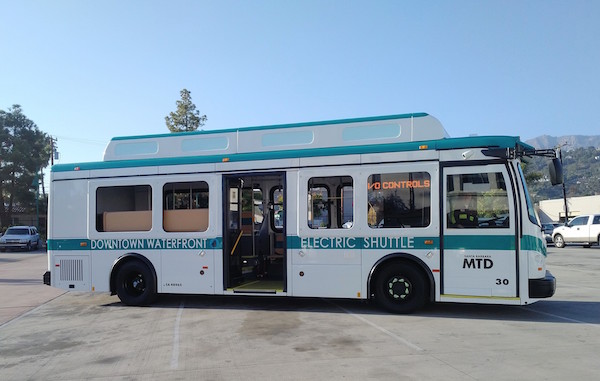 100 percent electric bus fleet by 2030. Californian public transport company Santa Barbara MTD's Board of Directors has adopted this goal for the transition to a full electric fleet. 14 out of 112 buses of MTD's fleet are already zero emission: the operator prides itself to boasts the second largest active electric bus fleet in California. A state that take the lead of US in the transition to clean energy: California government signed into law a measure requiring the state to produce all its electricity from renewable sources by 2045. Santa Barbara MTD ran the first electric buses in 1991.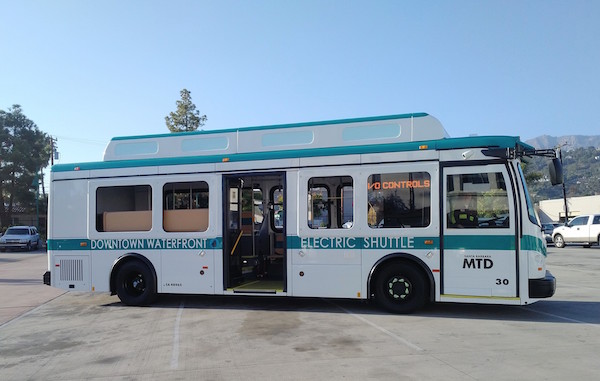 California leading US transition to electric buses
The California Air Resources Board (CARB) is expected to adopt new Innovative Clean Transit Standards in 2019, mandating phased future purchasing of buses for California transit operators be zero-emission. The California Air Resources Board, reported The Mercury News, voted to invest $130 million from the Volkswagen "Dieselgate" settlement to purchase zero-emission transit buses, school buses and shuttle buses. And the California Public Utilities Commission made a $760 million investment in electric charging infrastructure. For instance, San Francisco aims to achieve a 100 percent electric bus fleet by 2035, starting to buy only battery electric buses from 2025 on. Among the operators already committed to convert the fleet there are also AC Transit, Santa Clara Valley Transportation Authority and Monterey-Salinas Transit.
In US electric bus adoption + 83% in 2017
According to the consulting company Eb Start Consulting, during 2017 the number of electric buses delivered to US public transit agencies grew 83 percent (182 electric buses in service at 1/1/17, 383 one year later). Although market penetration remains low at about 0.5% of the total U.S. public transit bus market, 9% of all transit agencies either had electric buses in service or on order at the end of 2017. The market leaders? Proterra and BYD, both of which have recently tripled their manufacturing capacity to keep up with the demand. New Flyer come third.
A challenging goal
Now Santa Barbara MTD joins the group. "We are committed to making this happen. The whole team at Santa Barbara MTD is proud of our pioneering work in battery-electric transit, and we look forward to continuing to lead the industry towards a zero-emissions future," said Jerry Estrada, General Manager of Santa Barbara MTD. "Meeting this goal will be a challenge, but our partners in the region and in the transit industry have made a commitment to helping us get there. The MTD Board of Directors knows that it is the right thing to do for our agency, our community, and our planet," said MTD Board Chair Dave Davis.
Zero emission buses powered with renewable energy
Michael Chiacos, Director of Energy and Climate Programs at Community Environmental Council lauded the goal adoption, saying, "Zero emission electric buses powered by renewable energy will be cleaner for our air, quieter for our neighborhoods, and show the world we can lead on climate change solutions. CEC hopes MTD's leadership will spur other fleets and the public to consider electric vehicles, which are now surprisingly affordable and available in dozens of models.". According to the California Energy Commission, the state consumed 290,567 gigawatt-hours of electricity in 2016 — more than one-third from natural gas and roughly one-quarter from renewable sources.