Carris chooses CaetanoBus again and orders thirty more electric buses
Thirty new e.City Gold electric buses from CaetanoBus for Carris, which for the second time has chosen the Portuguese manufacturer to reinforce its fleet in service in Lisbon, after an initial order dated 2019. This is a €12.7 million investment. CaetanoBus's e.City Golds mount a new version of batteries, with greater capacity, which will enable […]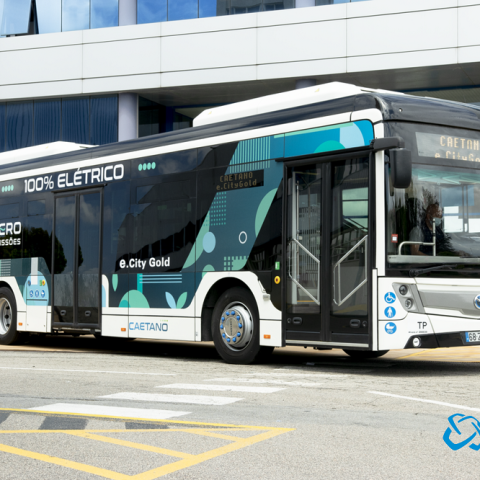 Thirty new e.City Gold electric buses from CaetanoBus for Carris, which for the second time has chosen the Portuguese manufacturer to reinforce its fleet in service in Lisbon, after an initial order dated 2019. This is a €12.7 million investment.
CaetanoBus's e.City Golds mount a new version of batteries, with greater capacity, which will enable the operator to make the city's diverse and demanding routes without the need for intermediate charging during the day. Besides this, the vehicles will be equipped with the most recent air conditioning system, driving support safety systems for the driver and passengers – camera rear-view system (replacing the mirrors), systems to warn of the presence of pedestrians, bicycles and scooters in places of low visibility on urban routes, eliminating the danger of blind spots, and active and passive safety systems, such as the distance radar for the vehicle in front, the lane change warning system, among others.
In addition, the buses will also be provided with the entire charging infrastructure, which will include sixteen Siemens SICHARGE UC 100 chargers, also manufactured in Portugal, just like Caetano's e-buses. The project also includes the monitoring and control system for the charging facilities, which enables safe and reliable operation of the equipment.
Nuno Lago de Carvalho, Chief Commercial Officer of CaetanoBus, says: «We are proud to be the best positioned company in a highly demanding international tender where CaetanoBus battery electric buses were the choice of Carris. We are happy to deserve, once again, the trust of Carris to help in the process of electrification of its bus fleet. We are also very happy to continue to contribute to a greener and higher quality public transport service in Portugal».