Hungarian market leader Credobus is set to launch its first electric bus in mid-2024
Credobus, Hungary's foremost bus manufacturer, is gearing up to introduce its inaugural battery-electric bus model, the Electronell, as reported on Hungarian trade media Magyarbusz.info. Unveiled at the 53rd Bus Expert Meeting in Zsámbék, the Electronell series represents a major leap forward for the company and the public transport sector in Hungary. Kravtex-Kühne Group, the parent […]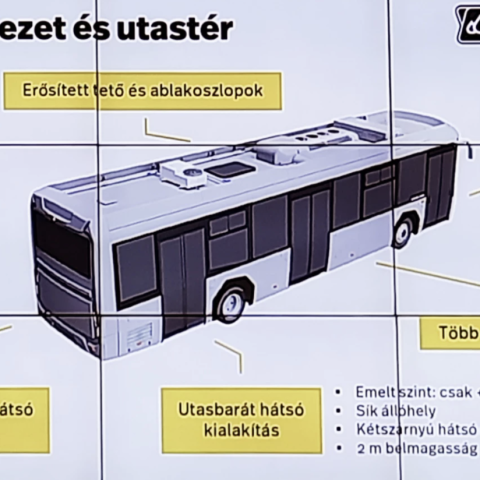 Credobus, Hungary's foremost bus manufacturer, is gearing up to introduce its inaugural battery-electric bus model, the Electronell, as reported on Hungarian trade media Magyarbusz.info. Unveiled at the 53rd Bus Expert Meeting in Zsámbék, the Electronell series represents a major leap forward for the company and the public transport sector in Hungary.
Kravtex-Kühne Group, the parent company of Credobus, disclosed vital technical specifications for their electric bus line. The Electronell series will be an electrified version of the Econell Next series, known for its lightweight design.
Credobus Electronell ready for launch in 2024
The highly anticipated Electronell is designed to offer two variations: the 12-meter solo bus and the 18-meter articulated model, both incorporating advanced Akasol (now BorgWarner) batteries (NMC3) and the Voith VEDS traction system. These buses are engineered to be light, with a low entry design, ensuring a smooth and accessible experience for passengers.
The bus features a 294 kWh battery pack for the solo model and a 392 kWh battery for the articulated version. Two modules are positioned under the floor at the rear passenger area, with an additional module mounted on the roof above the front axle.
Credobus plans to release these electric models conforming to urban and suburban vehicle classifications. The buses will meet the requirements of the UNECE 66.02 rollover protection regulation, emphasizing the commitment to passenger safety.
Scheduled for release in 2024, Credobus aims to introduce the solo version in the first half of the year and the articulated model in the latter half. Furthermore, the company is collaborating with ZF-Wabco to develop cyber protection and Advanced Driver Assistance Systems (ADAS) in alignment with the revised EU General Vehicle Safety Regulation, emphasizing a comprehensive approach to safety and technology integration.