Cagliari to receive 98 new e-buses from Solaris
CTM Cagliari has selected Solaris as the supplier for 98 electric buses of the Urbino electric model. The order includes 80 units of twelve-meter vehicles and 18 units of articulated buses. This contract is part of a framework agreement signed in 2023 with Italian central purchasing body Consip. In Sardinia there will be soon in operation also another batch of 100 buses from Solaris, but with […]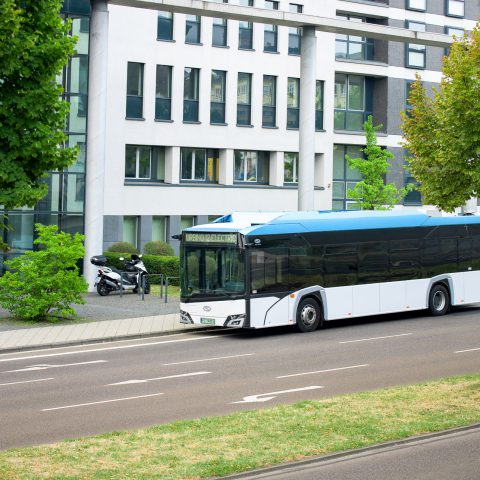 CTM Cagliari has selected Solaris as the supplier for 98 electric buses of the Urbino electric model. The order includes 80 units of twelve-meter vehicles and 18 units of articulated buses. This contract is part of a framework agreement signed in 2023 with Italian central purchasing body Consip. In Sardinia there will be soon in operation also another batch of 100 buses from Solaris, but with other technology (full hybrid) and with regional operator's livery (ARST).
Under this agreement, public transport companies can order vehicles directly or conduct tenders with selected suppliers. Deliveries are scheduled for 2024 and 2025. Solaris vehicles have already been serving traffic in Cagliari since 2010, including trolleybuses. It is worth mentioning that the manufacturer is currently fulfilling another contract for the CTM operator – for the delivery of 18 electric buses that will join the city fleet in July of this year.
Solaris already has over 1,600 vehicles driving on Italian roads.
CTM ordered e-buses from Solaris
The Urbino electric buses that will roam the roads of Sardinia will be powered by energy from Solaris High Energy batteries. The 12-meter models will feature energy storage systems with a total capacity of over 350 kWh, while the articulated buses will have batteries with capacity over 400 kWh. These batteries will enable the vehicles to achieve significant ranges, and rapid charging using pantographs will ensure full-day operation on the routes. At night, the buses will be charged in the depot using a standard plug-in connector, ensuring they are ready for further service the next day.
"We are thrilled by the news of CTM Cagliari's another ambitious investment in e-mobility. We are delighted to be part of this wonderful green transformation in the city's transport and to provide emission-free and environmentally friendly buses to this Mediterranean gem. We are proud of the trust placed in us and excited to join this groundbreaking project," said Olivier Michard, Solaris Board Member responsible for sales, marketing, and after-sales support.