Further Ebusco buses procured by Svealandstrafiken. Now also for regional operations
Ebusco has signed a new contract with Svealandstrafiken, Sweden, for a total of up to 64 buses. The contract comprises 23 Ebusco 3.0 13.5-meter Class II buses, to be delivered in the second half of 2024, and an option to purchase 41 additional buses. With this order, Svealandstrafiken is Ebusco's first customer ordering the 13.5-meter […]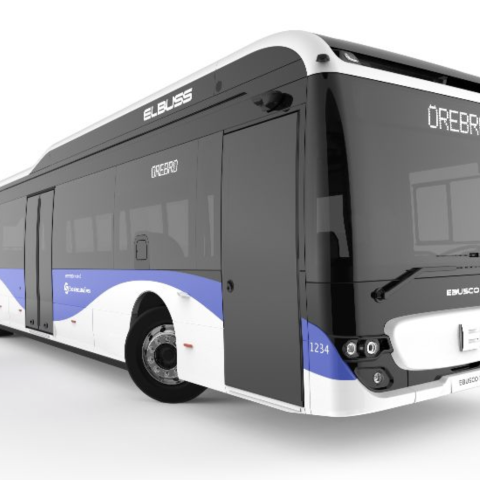 Ebusco has signed a new contract with Svealandstrafiken, Sweden, for a total of up to 64 buses. The contract comprises 23 Ebusco 3.0 13.5-meter Class II buses, to be delivered in the second half of 2024, and an option to purchase 41 additional buses. With this order, Svealandstrafiken is Ebusco's first customer ordering the 13.5-meter Class II variant. The operator is now in fact looking at the electrification of regional routes.
It is also the third order from Svealandstrafiken in the last nine months, further strengthening Ebusco's position in the Nordics. The first order was awarded in mid-2022, the second in November 2022.
Svealandstrafiken is a public transport operator responsible for the transportation of 65,000 passengers daily.

Made of composite, the Ebusco 3.0 features floor-integrated batteries, ensuring a low centre of gravity to offer excellent driver handling and great passenger comfort. Furthermore, the 13.5-meter buses for Svealandstrafiken will be equipped with a climate control system excluding fuel-driven auxiliary heaters.
75,000 km yearly for Ebusco buses in Sweden
The 23 Ebusco 3.0 buses that will be operating in the Örebro area are expected to drive up to 75,000 kilometers per bus per year.
Martina Lindblom Alanko, Head of Sustainability and Procurement at Svealandstrafiken comments: "Sustainability is close to our heart and a natural part of our business. As a bus operator, we strive for all our vehicles to have the lowest environmental impact. Ebusco's innovative bus fits perfectly with our ambition to reduce our climate and environmental footprint and the Ebusco 3.0 has once again proven to be the obvious choice on our road to zero emission. By introducing electric buses in regional transport, we are taking a further step towards completely emission-free public transport."

Jonas Helsner, Sales Director Nordics at Ebusco comments: "We are delighted to continue our collaboration with Svealandstrafiken with an order of up to 64 buses. The fact that this is their third order for Ebusco 3.0 buses in a year, is proof that we are not only the most sustainable choice but also perfectly suited for the Scandinavian climate. Together we can fulfil our common goal to make zero emission the new standard in Sweden and we're looking forward to seeing the first Ebusco 3.0 on the road in Örebro."