Eleven ie tram by Irizar e-mobility for sustainable public transport in Valladolid
Increasingly sustainable public transport in Valladolid, Spain, where eleven 18-meter Irizar e-mobility ie tram are expected to enter service on the Barrio España-Covaresa line. An investment of about 12 million euros, practically one million per unit; added to this budget are the 400,000 euros of the charging stations and the 591,750 euros of the cost […]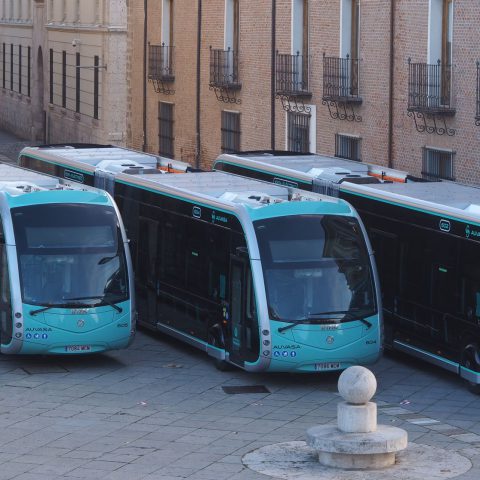 Increasingly sustainable public transport in Valladolid, Spain, where eleven 18-meter Irizar e-mobility ie tram are expected to enter service on the Barrio España-Covaresa line. An investment of about 12 million euros, practically one million per unit; added to this budget are the 400,000 euros of the charging stations and the 591,750 euros of the cost of upgrading the Auvasa depots.
Seven of the 11 e-buses have already arrived in the city. With these new buses, the average age of local operator Auvasa's fleet is reduced to 9.2 years old, symbolizing the company's commitment to rejuvenate and modernize its fleet, making it more sustainable. These are the first ever seven 18-meter zero-emission articulated electric buses for Auvasa
The features of the new Irizar e-buses for Auvasa
The vehicles are powered by state-of-the-art batteries with a 630 kwh on-board energy capacity and dual charging system, inverted pantograph and smart plug charging in depots, manufactured by Jema Energy, an Irizar Group company. This system allows overnight charging in storage, ensuring availability for a full day of operation. In addition, these vehicles are equipped with pantograph charging, which will allow, in the future, to automate the charging process in Auvasa depots.
Irizar e-Mobility's ie tram have a maximum capacity of 105 passengers, with two wheelchair areas and up to 42 seated passengers, and have four doors, allowing smooth access and transit, helping to improve the line's commercial speed.
The vehicles have CO2 meters inside, as well as multimedia and information systems with 29-inch screens and USB charging ports, along with closed-circuit television (Cctv) monitoring the passenger compartment. And to improve safety and ensure a comfortable ride, they have systems to improve visibility from the driving position by incorporating rearview cameras and advanced driver assistance systems (Adas), aiding pedestrian and cyclist protection and vehicle maneuverability.