Five Urbino electric to Sales-Lentz in Luxembourg
Sales-Lentz in Luxembourg has ordered five Solaris electric buses. The Polish company started its cooperation with Sales-Lentz (that has several electric buses by Volvo in the fleet) last year when it delivered its first vehicle to Luxembourg. Having ordered a bus with a conventional combustion engine back then, this time the operator went for a zero-emission bus. The five electric buses will be supplied to Bascharage, where […]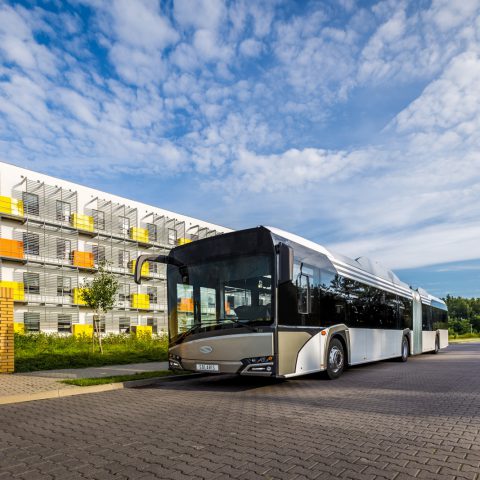 Sales-Lentz in Luxembourg has ordered five Solaris electric buses. The Polish company started its cooperation with Sales-Lentz (that has several electric buses by Volvo in the fleet) last year when it delivered its first vehicle to Luxembourg. Having ordered a bus with a conventional combustion engine back then, this time the operator went for a zero-emission bus. The five electric buses will be supplied to Bascharage, where will be also installed the new multi-standard charging system realized by Heliox in order to allow dual manufacturer electric buses to charge with different interfaces (Bus-Up and Oppcharge) using one charger.
Articulated with central engine…
In line with the agreement, the producer will deliver two 12-metre buses in March 2019, and another three articulated buses of 18 metres – in June.
The articulated electric buses commissioned by Sales-Lentz are propelled by a central traction engine with a power of 240 kW, made by Austrian company Tsa. The energy storage system consists of batteries of the Solaris High Energy type with a total capacity 240 kWh. The vehicles can be charged either by means of a plug-in connector or via a roof-mounted pantograph. The 2+2+2+0 door arrangement will be yet another characteristic feature of the vehicle; it allowed the producer to allocate 43 seats for passengers, of which 16 are accessible from the low floor.
…and solo buses with electric axle
The 12-metre zero-emission Solaris buses destined to go to Luxembourg will be fuelled via an electric portal axle with integrated electric motors with a power of 2 x 125 kW, realized by ZF. Just like in the case of the articulated vehicles, the energy storage unit will consist of Solaris High Energy batteries with a total capacity of 240 kWh. The charging options for this bus are similar to those used in the articulated version of the vehicle, as it will be possible to recharge via a plug-in connector or a pantograph. Thanks to the 2+2+0 door arrangement there is room for 38 seats in the vehicle.
The Solaris Urbino electric buses that will carry passengers in Bascharage will be equipped with air-conditioning, a comprehensive passenger information system, a video surveillance system, energy-efficient LED lighting and passenger seats fitted with individual safety belts.