SUM Bilbao International Congress, Irizar e-mobility (and CaetanoBus)will be protagonist
Irizar e-mobility will mark presence in the Basque Country, in Bilbao, which will host for the second time the main international congress SUM. The event, which is aimed at leading players, institutions and transport companies, aims to be a meeting point and a forum to build the transport of the future with an eye to sustainability. […]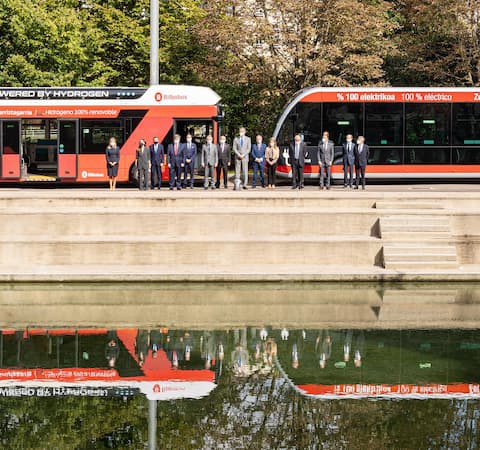 Irizar e-mobility will mark presence in the Basque Country, in Bilbao, which will host for the second time the main international congress SUM. The event, which is aimed at leading players, institutions and transport companies, aims to be a meeting point and a forum to build the transport of the future with an eye to sustainability.
The meeting will bring together more than ninety experts from five continents who will discuss the most significant issues related to urban transport, analyze the challenges and opportunities for the cities of today and tomorrow, and present success stories.
Irizar e-mobility, specifically, will participate in two talks in which the company will share its expe-rience in the implementation of electric mobility solutions; among the most important are BRT turnkey projects in several European cities and the launch of the self-driving project.
Irizar at the Bilbao appointment
On October 6, 7, 8 and 9, Bilbao residents will have the opportunity to see the 12-meter-long Irizar ie tram-bus; the vehicle is accessible, connected and equipped with various active safety features, visibili-ty features and is prepared for ITxPT protocols that enable inte-roperability of IT functionalities for public transport.
The Bilbao 2021 declaration will be signed during the congress and Irizar e-mobility will be one of the signing entities and in this way will show its commitment to build more sustainable models of urban transport.
Sustainable transportation is a key factor in the energy transition and the achievement of the SDGs and the United Nations 2030 Agenda. For this reason, Irizar e-mobility continues to design and produce turnkey electromobility solutions for sustainable, efficient, smart, accessible, safe and connected public transport.
Also CaetanoBus at the event
Also CaetanoBus will be attending the event bringing its fuel cell bus H2.CityGold. It is equipped with a Toyota fuel cell, a small battery pack with 44 kWh capacity and a Siemens powertrain with 180 kW peak power. The type IV hydrogen tanks will have a total capacity of 37.5kg to offer a drive range over 400 kilometres on a single refill.