Irizar to supply 12 e-buses in Palma de Mallorca
Irizar e-mobility will provide the Palma EMT with twelve 100% electric zero-emissions buses. The delivery of the first units is expected for early 2023. And the buses will contribute to the energy transition and accelerate the decarbonisation process of the capital of the island of Mallorca. One new feature is that the vehicles will have […]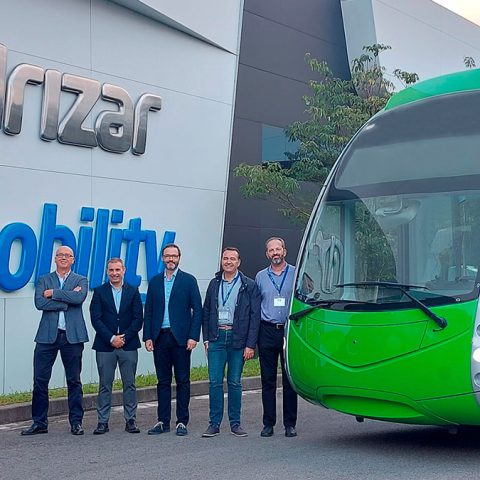 Irizar e-mobility will provide the Palma EMT with twelve 100% electric zero-emissions buses. The delivery of the first units is expected for early 2023. And the buses will contribute to the energy transition and accelerate the decarbonisation process of the capital of the island of Mallorca.
One new feature is that the vehicles will have solar panels on top that will be used to power the auxiliary systems of the buses.
The Irizar ie tram model vehicles will be 12 metres long and they will have three doors, 22 seats (four of which for PRM), and a wheelchair area and they will be able to carry up to 70 passengers. They will have 430 kWh Irizar batteries and can be charged using an inverted pantograph or a Combo 2 charging outlet. The drive unit will be a 206 kW central motor.
Accessibility, safety, circulation flow and passenger comfort inspired the interior architecture of the Irizar ie tram. Its large side windows alongside the interior LED lighting and the open-air style central vault provide luminosity that will give users a spacious, enjoyable and safe space.
The project received financing from the European Union NextGenerationEU, Recovery – Transformation and Resilience Plan funds through the Ministry of Transport, Mobility and the Urban Agenda.
The order is framed by the second phase of renewing the EMT fleet, which started in late January and will include upgrading 59 buses with clean energy vehicles that will make it possible to stop emitting 8000 tons of carbon dioxide.
With this new order, Irizar e-mobility is reaffirming their leadership in providing turnkey electromobility solutions for cities. They also continue investing in alternative energies and expansive projects to contribute to sustainable, safe and connected mobility of the future.
Txema Otero, Irizar e-mobility Commercial Director for Spain & Portugal, noted that "This order is strategic for us because of the visibility Palma has in the tourism market. We're extremely proud to be able to contribute to improving the quality of life of its residents. The vehicles, which will have Irizar battery technology, will be completely quiet and won't create polluting emissions. The Irizar ie tram can be identified by being a bus with a minimalist design without ornamentation where every feature has a specific functional purpose which creates an identity and image easily recognisable by users."