Italy, two Rampini e-buses on a trial between Rapallo, Santa Margherita and Portofino (Ligurian see)
Genoa's project for the gradual transition to electric public transport goes ahead. Another important step towards green mobility was presented today with the introduction, on a trial, of two electric buses on line 82 connecting Santa Margherita Ligure and Portofino. The service will start tomorrow, Thursday 22 July, and will run throughout the summer. This […]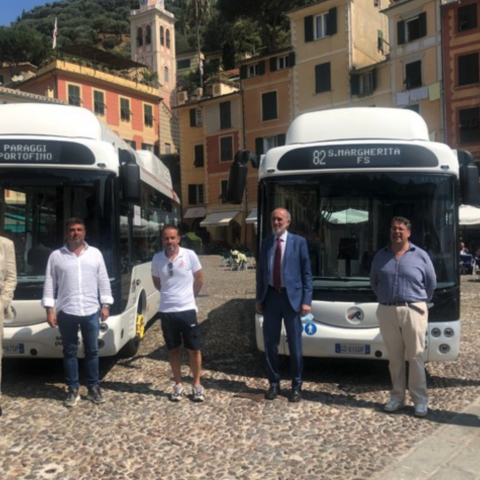 Genoa's project for the gradual transition to electric public transport goes ahead. Another important step towards green mobility was presented today with the introduction, on a trial, of two electric buses on line 82 connecting Santa Margherita Ligure and Portofino.
The service will start tomorrow, Thursday 22 July, and will run throughout the summer. This test is part of the project assigned by the Metropolitan City to AMT to study the electrification of the Rapallo – Portofino bus line. The surveys, which will be carried out over the next two months, will make it possible to define the technical and functional characteristics of the vehicles and infrastructure in order to quantify and plan the necessary investments.
The two electric buses in service on route 82 are Rampini 8-metre e-buses with a total of 46 seats, a length of 7.79 m and a width of 2.20 m. It is equipped with a low floor, a platform for wheelchair access, a central sliding door, air conditioning and video surveillance cameras on board. The e-buses are charged overnight.
In order to organize the e-bus service on line 82, it was necessary to carry out complex work at the AMT depot in Rapallo, which will house them. The work carried out was preparatory to the creation of the charging infrastructure to power the e-buses; in particular, a new 100 kW power supply (compared to the previous 25 kW supply) was installed;