Iveco Bus to supply 5 E-Way electric buses in Seville
Iveco Bus will deliver five 12-metre E-Way electric buses that will contribute to making the fleet of Seville's Urban Transport (TUSSAM) more sustainable. The E-WAY chosen by TUSSAM will feature a synchronous electric traction motor with a nominal power of 160 kW and NMC Lithium-Ion ZEN batteries with up to 460 kWh capacity, integrated both […]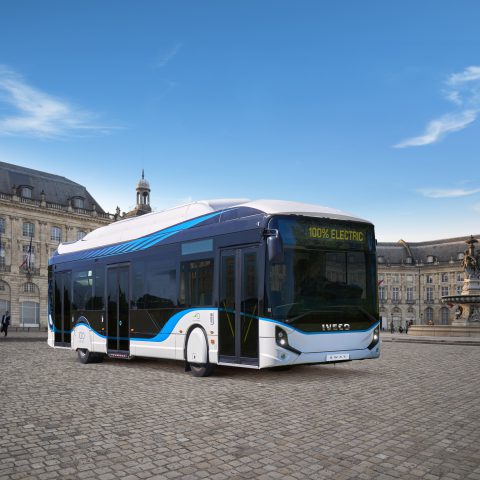 Iveco Bus will deliver five 12-metre E-Way electric buses that will contribute to making the fleet of Seville's Urban Transport (TUSSAM) more sustainable.
The E-WAY chosen by TUSSAM will feature a synchronous electric traction motor with a nominal power of 160 kW and NMC Lithium-Ion ZEN batteries with up to 460 kWh capacity, integrated both in the roof and in the rear of the vehicle. The recharging process is very simple and completely safe through the CCS2 Combo socket, admitting about 100 kW of power for a complete charge in less than four hours. 
Iveco Bus E-Way for Seville
The Iveco Bus E-Way is already working successfully on public transport networks in France, Norway, the Netherlands, Luxembourg, Austria, and Germany, where they operate daily and have already completed several millions of kilometres. 
Delivering a good ratio of range and passenger capacity, the E-Way has the power to ensure a full day of operation, manufacturer states. The model has achieved 2 certified record runs that demonstrate its outstanding reliability and excellent performance. The second Record Run was conducted in real operating conditions on the initiative of a customer, the German company Verkerhrsbetriebe Bachstein, using a 12 m overnight charging E-Way with a 350 kWh battery pack. The result, certified by TÜV Nord, was 543 kilometres on a single charge without any problems, leaving a 3% residual load at the end of the test. 
For Fabrizio Toscano, Iveco Bus Sales Manager for Spain and Portugal, "Iveco Bus's electrical technology provides a quality, comfortable, clean, and sustainable service; without detriment to the fundamental advantages of this means of transport, such as versatility of use and optimized operating costs. We are happy and proud to have been selected by Seville's Urban Transport (TUSSAM) to support them in the deployment of their fleet of 100% clean buses. This first order in Spain is a sign of trust and the best proof of the high quality of our full electric model."