11 Karsan e-Atak are joining Catania bus fleet, in Sicily (plus 7 Solaris Urbino 12 electric)
Catania municipality, in Sicily (Italy), has acquired 11 Karsan e-Atak 8-metre full electric buses. The first ones are already operating throughout the city for the necessary operational and set-up tests. The news is reported on Italian specialized media Autobusweb. This was announced by the City Council, emphasising that this is only the first tranche of […]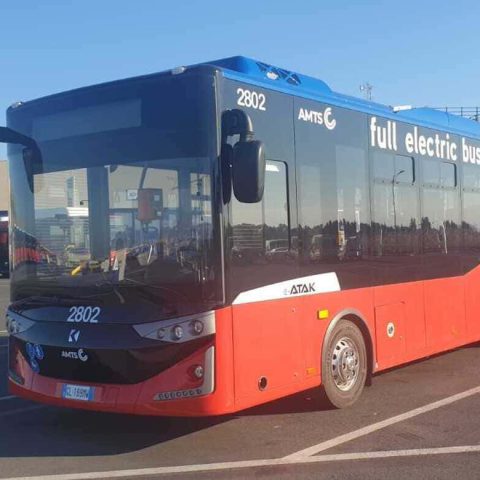 Catania municipality, in Sicily (Italy), has acquired 11 Karsan e-Atak 8-metre full electric buses. The first ones are already operating throughout the city for the necessary operational and set-up tests. The news is reported on Italian specialized media Autobusweb.
This was announced by the City Council, emphasising that this is only the first tranche of the latest generation of vehicles purchased by operator AMTS as the implementing party and beneficiary of the City Council under the PON Metro 2014-2020 funding programme (Axis 6 REACT-EU).
Karsan e-Atak for Catania + Solaris Urbino 12 electric
The vehicles can carry 49 passengers, 18 of which are seated. They are all equipped with a platform for wheelchair access and there is a wheelchair space on board. During the course of January 2023, the fleet of electric buses in operation on the streets of the city will be joined by a further batch of seven 12-metre buses with a capacity of 85 seats, 26 of which are seats.
These longer buses are produced by Solaris, model Urbino 12 electric. They'll be used on the busiest lines such as BRT1 and BRT5e.