Kinetic to launch ten electric buses in Queensland by September
Kinetic is going to roll out 10 electric buses for south-east Queensland bus users (Australia). They'll be operated with Translink (and built by local bus builder Volgren): the new buses are expected to begin services on the Gold Coast in September. Kinetic operating electric buses The additions to Kinetic's Gold Coast fleet are among a […]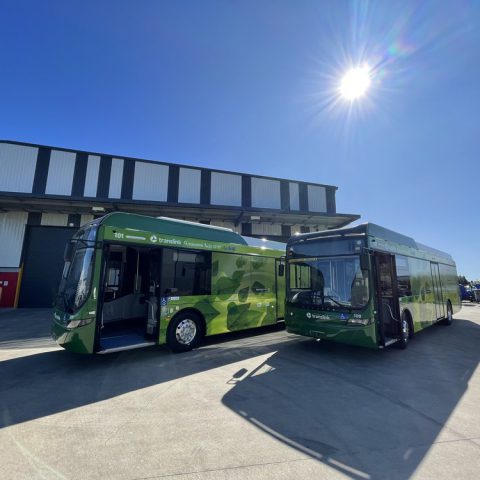 Kinetic is going to roll out 10 electric buses for south-east Queensland bus users (Australia). They'll be operated with Translink (and built by local bus builder Volgren): the new buses are expected to begin services on the Gold Coast in September.
Kinetic operating electric buses
The additions to Kinetic's Gold Coast fleet are among a number of environmentally-friendly buses that will be introduced to the Queensland public transport network this year, with Kinetic also set to launch five new vehicles each on the Sunshine Coast and in Cairns via Sunbus.
Kinetic also opened Australia's first 100 per cent electric bus depot at Currumbin Waters in April.

"This is an exciting moment for public transport customers on the Gold Coast and another important step in making the network more environmentally-friendly for the people of Queensland," Queensland Transport and Main Roads Minister Mark Bailey said.

"The arrival of these buses in the coming weeks will build on the Palaszczuk Government's commitment that every new bus in South East Queensland will be zero emission from 2025, with regional implementation to begin between 2025 and 2030.

"We have no doubt customers will enjoy riding on the new buses and take satisfaction knowing they are playing a role in helping the environment and limiting carbon emissions."
Queensland Environment Minister Meaghan Scanlon said the buses were helping shape the future of zero emission public transport: "This year we're rolling out buses in a number of different locations to understand how they perform, and understand any lessons that can be learned before we hit the 2025 target. This is all part of our Queensland Climate Action Plan to reduce emissions across our state. Our research shows each electric bus could save as much as 1,000 tonnes of greenhouse gases over its lifespan and deliver many community benefits with less noise and harmful air pollution,".
Kinetic Executive General Manager Queensland Matthew Campbell said the business was committed to working with Translink on new, innovative ways to deliver zero-emissions public transport: "We are committed to working with the Queensland Government and all of our partners to deliver more reliable, safer, cleaner and greener buses and investing in our depot, bus and infrastructure assets to ensure we meet the transport needs of future generations," Mr Campbell said.
Volgren Chief Commercial Officer Yuri Tessari said the 10 locally-built Battery Electric Buses (BEBs) for Translink reflected a company-wide strategy to ensure the next generation of zero emission buses can be built in Queensland: "Volgren's strategy is to have standardised production and quality systems across all of our manufacturing facilities; the same applies to different types of technologies and business partners' products. In the last 12 months we've concentrated on transitioning our Eagle Farm facility so it has the capacity and scale to build on multiple chassis technologies, including zero-emission vehicles. These first 10 units for the Gold Coast, which will be finalised by August, represent our first locally-built BEBs in Queensland and we're incredibly proud to be working alongside valued partners, Translink and Kinetic.