NFI and the Earth Day: over 40 million zero-emission miles
On the occasion of the Earth Day 2021, NFI Group announced that its electric vehicles have collectively travelled more than 40 million zero-emission miles (over 64 million km). Through this milestone, «NFI EVs have prevented nearly 150,000 imperial tons of greenhouse gas emissions from entering the environment – the equivalent of removing 23,000 cars from the […]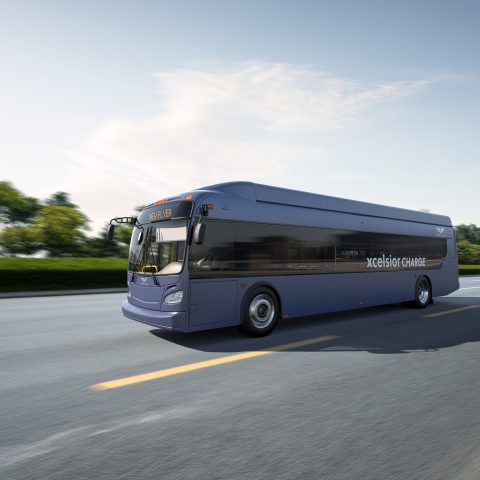 On the occasion of the Earth Day 2021, NFI Group announced that its electric vehicles have collectively travelled more than 40 million zero-emission miles (over 64 million km). Through this milestone, «NFI EVs have prevented nearly 150,000 imperial tons of greenhouse gas emissions from entering the environment – the equivalent of removing 23,000 cars from the road for one year», according to the group's figures. 
In addition, NFI announced that New Flyer Infrastructure Solutions, NFI's full-suite infrastructure project management service, has now installed more than 200 EV chargers. 
In reaching 40 million electric miles across NFI's EV line up, we continue to decrease the carbon footprint of transportation

Paul Soubry, President and Chief Executive Officer, NFI
NFI in the Earth Day: e-buses are part of a broader offer
NFI's EV offering includes single and double-deck heavy-duty transit buses, motor coaches, and medium-duty buses. NFI has been manufacturing electric vehicles since 1969, and its current offering includes battery-electric and fuel-cell electric variants. 
NFI is a leader in zero-emission mobility with battery-electric and fuel-cell electric vehicles operating in more than 80 cities in four countries that have completed over 40 million electric service miles. NFI also operates the Vehicle Innovation Center, the first and only innovation lab of its kind dedicated to advancing bus and motor coach technology and providing essential workforce development through electric bus training, now available online. NFI is testing automated vehicle technology and remains committed to the development of technology standards that deliver safe, clean, sustainable, connected mobility options to communities. 
NFI: reducing carbon footprint of transportation
"Today's achievements are tomorrow's gains. In reaching 40 million electric miles across NFI's EV line up, we continue to decrease the carbon footprint of transportation while delivering clean, safe, quiet mobility powered by our advanced zero-emission technology," said Paul Soubry, President and Chief Executive Officer, NFI. "Decades of strengthening our core competencies – including scalable customized manufacturing, lifetime service and support, technology innovation, and workforce development – have led to these milestones and established NFI as a leader in the EV market." 
"In recognition of Earth Day, NFI is committed to leading electrification of mass mobility around the world," said Soubry. "With over 600 engineers globally, our ability to design and deploy sustainable technology is unmatched. We remain relentless in our delivery of four-pillar mobility solutions, as well as our ultimate pursuit of more livable communities, cleaner air, decreased GHG emissions, and a protected environment – all of which contribute to mitigating climate change."