Nova Bus delivers e-buses in Brampton (Canada)
Nova Bus has launched in operation a batch of two forty foot, fully electric Nova Bus LFSe in Brampton (Canada). The electric buses were delivered earlier this year as part of the Canadian Consortium for Urban Transportation Research and Innovation (CUTRIC) Canada-wide Interchangeability Project. The investment made by the City of Brampton is helping Canada achieve […]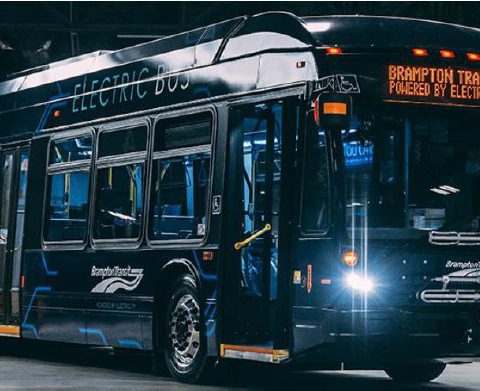 Nova Bus has launched in operation a batch of two forty foot, fully electric Nova Bus LFSe in Brampton (Canada).
The electric buses were delivered earlier this year as part of the Canadian Consortium for Urban Transportation Research and Innovation (CUTRIC) Canada-wide Interchangeability Project. The investment made by the City of Brampton is helping Canada achieve its ambitious goals for the reduction of greenhouse gas (GHG).
Nova Bus LFSe for Brampton, Canada
Earlier this year Nova Bus has been selected to supply 15 LFSe+ buses, its electric bus model, by the Milwaukee County Transit System (MCTS), the largest transit agency in Wisconsin and primary transit provider for Milwaukee County. This marked Nova Bus' first order of electric buses in the United States.
The Nova Bus FSe charges in less than 6 minutes, the producer says. The e-bus model was the first electric bus in the industry to receive a passing score for a full test at Altoona in June 2018.
"Helping residents of Brampton get around in faster, cleaner and more affordable ways is the goal of our investment in zero-emission buses. Today's launch is an important milestone towards Brampton's ambitious goal of reducing emissions by 80 per cent by 2050, and toward our government's commitment to add 5,000 zero emission buses over 5 years. It will support Canadian jobs, tackle climate change, and build cleaner, more inclusive communities", said the Honourable Catherine McKenna, Minister of Infrastructure and Communities.
"Nova Bus is a Canadian leader in the electromobility market, and we are honored and thrilled to be part of Brampton's transition to electromobility. As a key member of CUTRIC and part of the Pan-Canadian Battery Electric Bus Demonstration and Integration Trial, we are fully committed to the concerted efforts in the electrification of transportation. Clean and sustainable technologies are part of Nova Bus's core" said Emmanuelle Toussaint, Vice-President Legal, Regulatory and Public Affairs at Nova Bus.
"I am excited to announce the launch of electric buses on Brampton's roads starting May 3. Brampton is a Green City, and this is a significant milestone in sustainability for our community" said Mayor Patrick Brown.
"Brampton's world-leading deployment, which is being supported by five of CUTRIC's Member companies, makes Canada a global hotbed of electric bus innovation," said CUTRIC President and CEO Josipa Petrunic. "This project is also creating new low-carbon technology jobs and attracting foreign investment to Brampton, to Ontario, and to Canada, all of which is more vital than ever as we work to recover from the COVID-19 pandemic."