Nuremberg e-bus fleets grows with 46 Mercedes eCitaro
Nuremberg electric bus fleet grows. 46 more e-buses will be added this year. They will all be Mercedes eCitaro. In order to provide the buses with sufficient space and charging capacity, the depot at the Schweinau site is being expanded. The depot is at the moment equipped with Siemens-made charging infrastructure. There will be capacity […]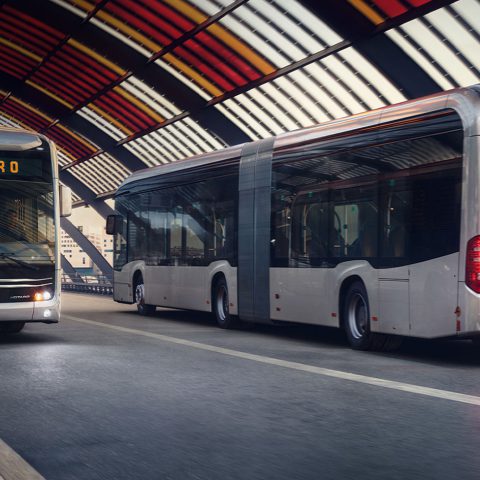 Nuremberg electric bus fleet grows. 46 more e-buses will be added this year. They will all be Mercedes eCitaro. In order to provide the buses with sufficient space and charging capacity, the depot at the Schweinau site is being expanded. The depot is at the moment equipped with Siemens-made charging infrastructure. There will be capacity for 171 e-buses after the end of the conversion
When the batch of e-buses will be delivered, almost half of VAG bus fleet will run on green electricity. By 2030, the entire bus operation are set to be electrified.
In January 2021 VAG Nuremberg ordered 28 MAN Lion's City 18 E and 11 MAN Lion's City 12 E buses from MAN Truck & Bus.
VAG Nuremberg buys further electric buses
With the help of government subsidies, the operator VAG announces it has purchased a further batch of 16 12-meter and 30 articulated zero emission buses. These are set to gradually enter service by the end of the year.
The solo bus offers space for a total of 73 passengers. The articulated bus has 44 seats and 83 standing places, so it can carry a total of 127 passengers. In order to best meet the needs of different passengers, there are multi-purpose areas behind the second door, and additionally behind the third door on articulated buses, for people with wheelchairs, prams or luggages.
In 2021, VAG put the eBus port into operation in Schweinau, where 39 e-buses can be parked and charged. Now more charging capacity is now needed. "The existing parking hall is therefore now being upgraded in terms of fire protection and equipped with charging facilities. In a first step, 46 e-buses will be able to be parked here. The parking hall will also be extended by 24 additional covered parking spaces. According to current plans, there will be capacity for 171 e-buses after the end of the conversion", VAG Nuremberg says.