Osnabrück orders further 49 VDL electric buses. 13 are already in operation
Further 49 VDL articulated electric buses will join 13 units already in operation. The city of Osnabrück places itself at the forefront of the transition to zero emission buses in Germany. Today, Friday 5 July, signatures were placed on a new cooperation agreement between Stadtwerke Osnabrück and VDL Bus & Coach. 62 electric buses in the […]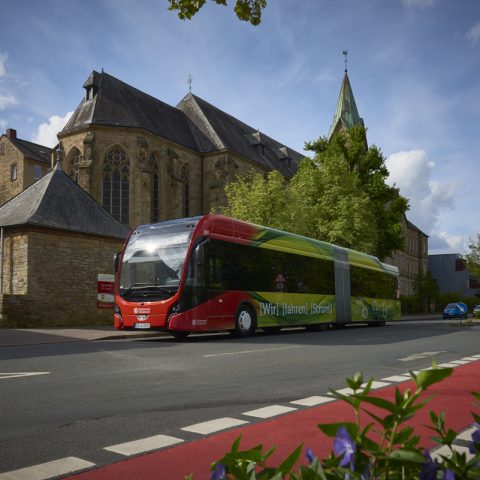 Further 49 VDL articulated electric buses will join 13 units already in operation. The city of Osnabrück places itself at the forefront of the transition to zero emission buses in Germany. Today, Friday 5 July, signatures were placed on a new cooperation agreement between Stadtwerke Osnabrück and VDL Bus & Coach.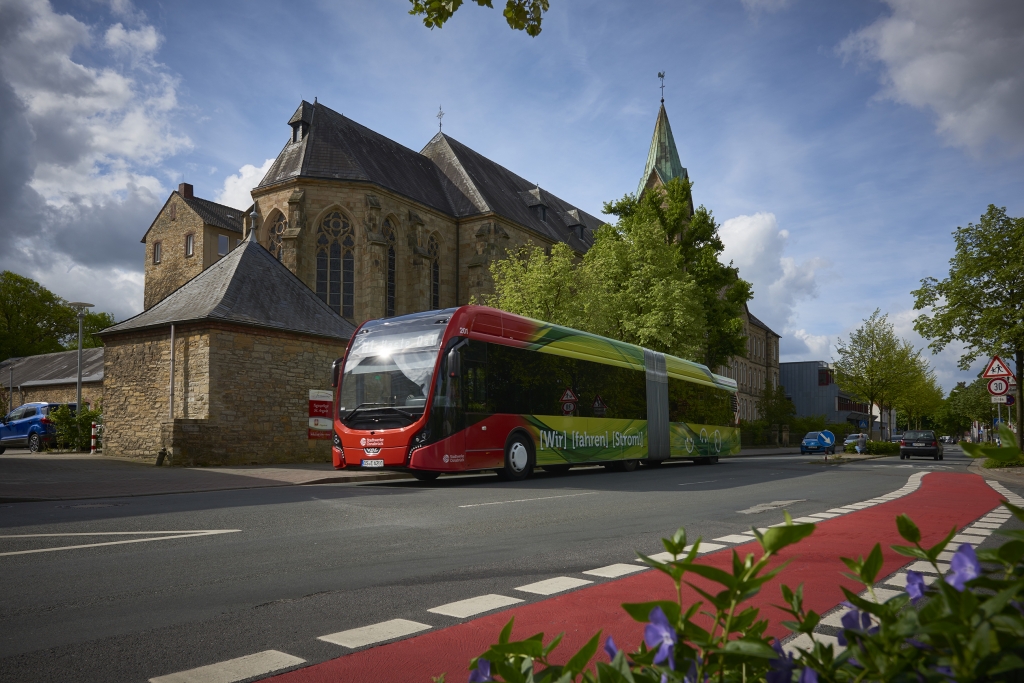 62 electric buses in the future of Osnabrück
In 2021 Osnabrück will have a total of 62 zero emission buses in operation on the public transport network. The 49 electric VDL Citea articulated buses (model Citea SLFA-181 Electric) will travel a total of 14,000 km per day. They will be in operation around the clock. This maximum utilization of the buses will be possible thanks to the optimized rapid charging concept, VDL points out. The batteries have an energy capacity of 216 kWh and can be charged at a rate of up to 320 kW.
The new fleet of electric buses is identical to the thirteen buses currently operating in Osnabrück, except for two differences: the new vehicles will be equipped with larger batteries and will no longer have supplemental fossil fuel heating. The buses will be charged in the depot thanks to 49 slow charging stations (50 kW). Fast charging during service is done via roof-mounted pantographs on the buses.
Osnabrück bringing public transport to the next level
"Pioneers like Stadtwerke Osnabrück are always needed to put new developments in practice," says Boris Höltermann, director of VDL Bus and Coach Duitsland. "We are proud of the cooperation, which also shows that our concept is convincing."
"We are confident the new buses will be as good as the first thirteen", said Dr Stephan Rolfes, director of mobility at Stadtwerke Osnabrück. "The 100-day balance sheet, following the initial start of operation in March 2019, is very positive. Of course, there are always details that can be improved, but VDL Bus & Coach's electric buses take our public transport to the next level. Not only are we satisfied, we are also receiving very positive feedback from residents and passengers."