Qbuzz lands an order for 63 buses with Ebusco
Ebusco has signed a new contract with Qbuzz for the delivery of up to 63 buses. The order involves 45 Ebusco 3.0 12-meter buses and 18 Ebusco 3.0 18-meter buses, four of which are still under option. The buses will hit the road in the provinces Groningen and Drenthe in 2024. In the concession, Qbuzz […]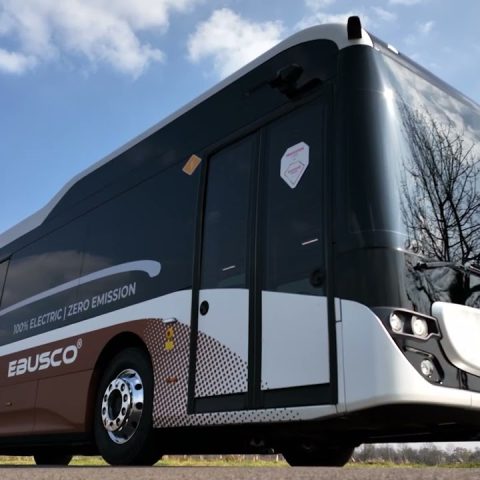 Ebusco has signed a new contract with Qbuzz for the delivery of up to 63 buses. The order involves 45 Ebusco 3.0 12-meter buses and 18 Ebusco 3.0 18-meter buses, four of which are still under option. The buses will hit the road in the provinces Groningen and Drenthe in 2024.
In the concession, Qbuzz has a fleet of around 400 buses, which will now partially be replaced by up to 63 Ebusco 3.0 buses. 60 Ebusco 2.2 buses are already in operation for the operator, owned by the Italian railway company FS (20 vehicles were delivered in 2020 in Utrecht).
Ebusco 3.0 buses for Qbuzz in Groningen and Drenthe
Qbuzz will deploy the buses on behalf of OV-bureau Groningen-Drenthe in the provinces of Groningen and Drenthe. The 12-meter buses will mainly be used for regional transport, while the 18-meter buses will operate under the Q-link flag on lines 5 and 6 nearby the city of Groningen, Ebusco says.
Both variants of the Ebusco 3.0 for Qbuzz will be equipped with an extra-large battery pack (>500kWh), which is unique for the 12-meter variant.

Ebusco states it has been working with Qbuzz for several years now and has already provided the operator with circa 130 electric buses. Under the Qbuzz umbrella, the Ebusco 2.2 buses are already operating in the cities of Utrecht, Groningen and Dordrecht, amongst others.
Ebusco buses for Qbuzz
Steven van der Burg, Sales Director at Ebusco, explains: "We are extremely proud that Qbuzz has once again chosen Ebusco. In recent years, we have already delivered more than 100 electric buses to Qbuzz. The fact that Qbuzz selected us again after the success of the Ebusco 2.2, is proof that with the Ebusco 3.0 we have taken the right path to take emission-free public transport to an even higher level. We thus look forward to continuing our cooperation with Qbuzz to continue our road to zero emission."
Dirk Huzeling, Creative Bid Manager at Qbuzz, responds: "Over the past few years, we have already experienced the success of the Ebusco buses on the road. With the Ebusco 2.2 buses we already drive between 350 and 375 electric kilometers per day, while recharging at our depots from time to time. We are very pleased to now also add the Ebusco 3.0 to our fleet and are confident that this lightweight bus will deliver an even better range in combination with the large battery pack. This will allow us to increase the sustainability of public transport in the provinces of Drenthe and Groningen to a greater extent".