Romania to get the first batch of Karsan e-ATA 10. Ten units headed to Slatina
Karsan delivered 10 units of 10-meter-long e-ATA buses to the city of Slatina. In addition, Karsan already signed Turkey's largest electric bus export agreement for the sale of 56 e-ATA buses to Romania. e-ATA, inspired by the Turkish word "Ata", which means the eldest member of a family, has the largest bus models within Karsan's […]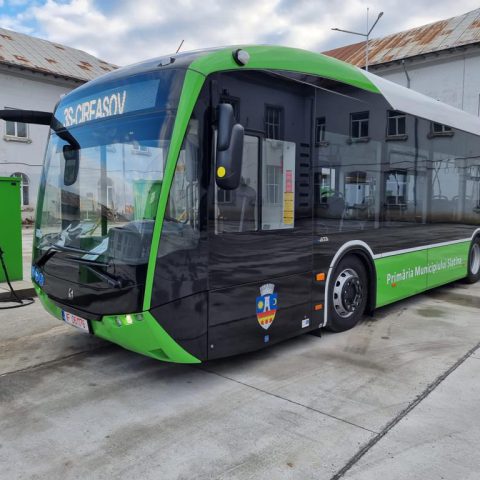 Karsan delivered 10 units of 10-meter-long e-ATA buses to the city of Slatina. In addition, Karsan already signed Turkey's largest electric bus export agreement for the sale of 56 e-ATA buses to Romania.
e-ATA, inspired by the Turkish word "Ata", which means the eldest member of a family, has the largest bus models within Karsan's range of electric vehicles. Electricity-powered by design, e-ATA offers versatility on so many aspects, from battery technology to load capacity, agile enough to respond to evolving needs.
The e-ATA series, which come in seven different battery packs from 150 kWh to 600 kWh, can go up to 450 km in its 12-meter-long version, while fully functioning in actual driving conditions, which can stop and go, let passengers alight and get on, with the air conditioning working for a full day. Also, with its fast charging technology, it can be charged in 1 to 4 hours depending on the size of the battery pack.
The maximum battery capacity can be increased to 300 kWh for 10-meter buses, 450 kWh for 12-meter buses and 600 kWh for 18-meter buses. The electric hub motors of Karsan e-ATA positioned on the wheels provide 250 kW maximum power and 22,000 Nm torque for its 10- and 12-meter-long bus range. The maximum power of 500 kW in the 18-meter-long version shows the highest performance even at full load. The e-ATA product range, which is fully compatible with the different geographical conditions of different cities in Europe, impresses with its futuristic exterior design.
Commenting on the first delivery of the 10-meter-long e-ATA buses equipped with a pantograph to the municipality of Slatina, Karsan CEO Okan Baş said, "We have become an important part of the transformation in public transportation with Karsan's range of electric buses, from 6m to 18m, operating in many European countries. We offer flexible and environmentally friendly solutions to the increasing need for large-sized electric public transportation in crowded cities. We made our first e-ATA export to Romania, where we strengthened our presence with our vehicle fleet and after-sales services. Today, we aim to further enlarge our fleet of more than 250 Karsan electric vehicles, which are circulating all over the world, with the new buses we will be delivering to many cities in Europe starting from next year. We are proud of growing in the EU market with our 10-meter e-ATA solution, whose first deliveries were made to the Romanian city of Slatina".