Škoda Transportation Group introduced a new electric bus for Prague
The new Škoda E CITY electric bus was presented today at the 10th edition of the Central European fair CZECHBUS, where Sustainable Bus has marked presence.It is a brand new electric bus model from the Škoda Transportation Group. Prague will thus be the first city to operate this modern and environmentally friendly electric bus, which […]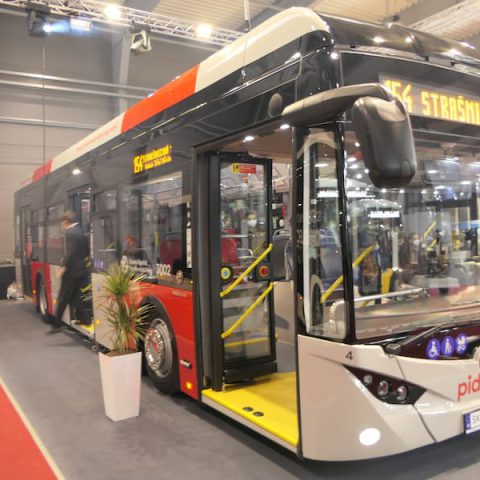 The new Škoda E CITY electric bus was presented today at the 10th edition of the Central European fair CZECHBUS, where Sustainable Bus has marked presence.It is a brand new electric bus model from the Škoda Transportation Group. Prague will thus be the first city to operate this modern and environmentally friendly electric bus, which does not emit carbon dioxide and other harmful substances, thus contributing to cleaner air and a more harmonious environment in the city and the Transport Company of the Capital City of Prague. Prague (DPP) is its first operator and has ordered a fleet of 14 vehicles and plans to deploy them mainly on lines 154 and 213.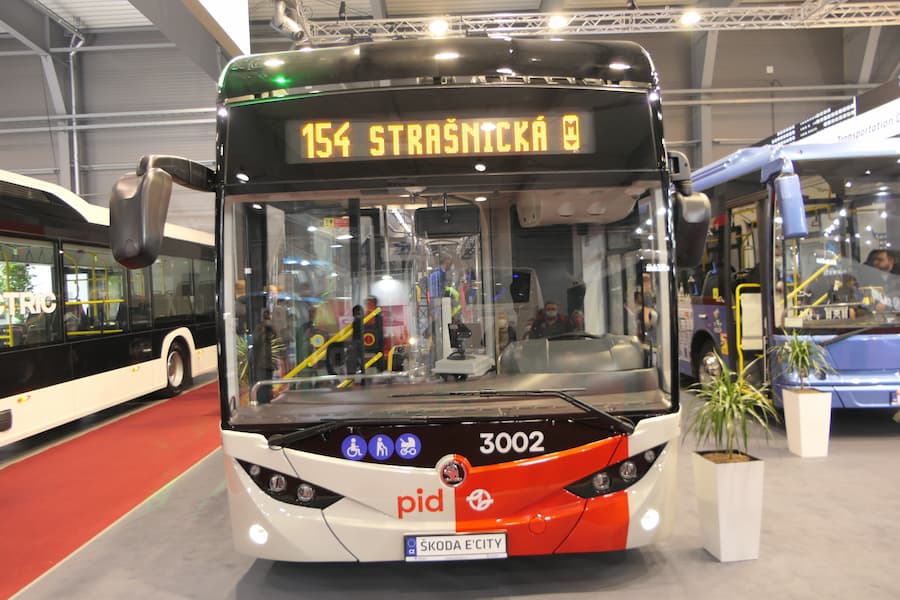 Petr Brzezina, President of the Škoda Transportation Group, said: «Every day we are working on improving our products and investing in the development of others. The new model of the Škoda E'CITY electric bus is a clear proof of this and I am very happy that the first city where it will be used is Prague. Emission-free vehicles are a key part of modern transport and help reduce not only the carbon footprint but also the operating costs of the transport operator. Our electric bus will also provide many benefits to passengers. They will appreciate the comfortable equipment – for example, full-car air conditioning, comfortable seats, a sophisticated information system and a quiet ride. Thanks to the opportunistic charging system, the battery will be recharged from the existing traction infrastructure during the day and then slowly charged and balanced overnight," says .
"This is the first delivery of electric buses that we are implementing in cooperation with our sister company Temsa, which was our subcontractor in this case. We have designed specific modifications for the existing solution used by our sister company for its own vehicles, based on lessons learned from previous joint projects. Thus, the bodywork was manufactured in Turkey based on our specification. To this we added the best of our production – complete electrical equipment including batteries and pantograph – the entire assembly and complete testing of the car was provided in our Pilsen factory. Thanks to this cooperation, an ideal means of transport for public transport was created," explained Zdeněk Majer, Senior Vice President for Sales of the Škoda Transportation Group.
Škoda E'CITY offers a unique solution with two-pole charging and a galvanically isolated charger on the vehicle. In practical terms, this means that during the day, when the car is in operation, its traction battery is repeatedly recharged using a pantograph from the existing infrastructure for the tram or future planned trolleybus lines. DPP has already prepared the infrastructure for this type of recharging at the final stops Strašnická and Želivského. Charging here will take place for 15-30 minutes, which will replenish part of the total battery capacity, allowing the vehicle to complete another circuit on the line. The advantage of this solution is the ideal control of the car's energy balance, and especially the low cost of the charging infrastructure. In real terms, electric buses equipped with this type of charging have a longer daily range and greater flexibility in deployment on different routes. In addition, Prague will receive advanced energy management for the entire fleet of vehicles from Škoda Transportation, which will enable cost-effective charging of the batteries and extend their service life.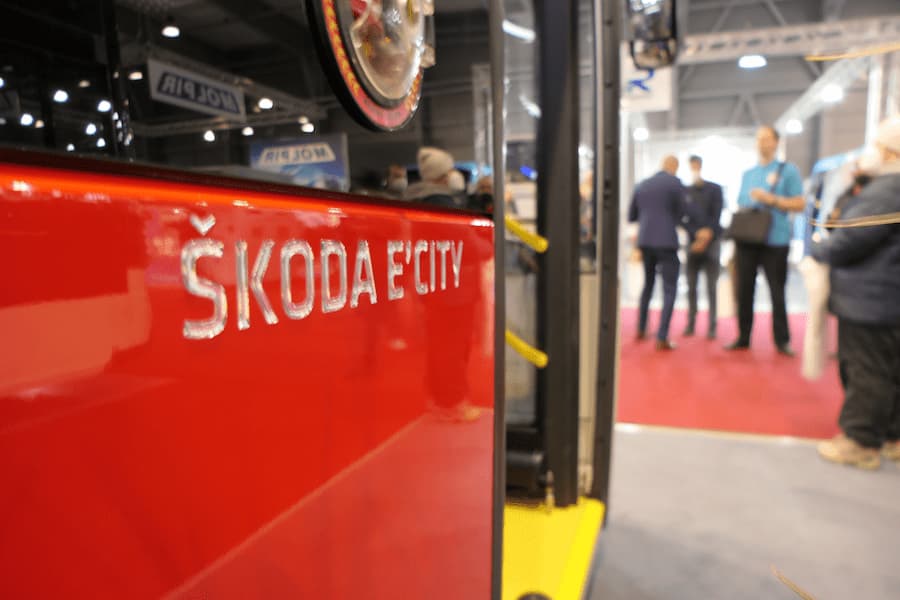 Technical information about the Škoda E'CITY electric bus
The new electric bus for DPP is of the Standard (Sd) type for urban lines, has a length of 12 metres and a design speed of 80 km/h. Its exterior paintwork is in the new colour style of Prague Integrated Transport (PID) vehicles and its technical specification meets the new PID quality standards. E'CITY is a fully low-floor, zero-emission battery vehicle that has a guaranteed range of more than 100 kilometres per charge for the entire designed battery life, including interior heating or cooling. Charging power is up to 150 kW and charging is via a two-pole pantograph mounted on the vehicle and an on-board galvanically isolated charger directly from the 600 V/750 V DC mains. It is also possible to use the plug-in overnight charging option at the depot from a power outlet. The air conditioning and heating are also purely electric. The driver's cab is enclosed for higher safety requirements.
Of course, there is space for two pushchairs or wheelchairs, as well as spaces reserved for people with reduced mobility. The electric bus is equipped with a modern information and check-in system, including automatic passenger counting and facilities for the blind. There is also a camera system for passenger safety.
Basic technical data of the Škoda E'CITY electric bus:
Length: 12,095 m
Width: 2.55 m
Height: 3.3 m
Wheelbase: 5 805 mm
Total maximum weight: 19 000 kg
Maximum speed: 80 km/h
Number of doors: 3 double doors
Entry height: 32 cm
Total number of seats: min. 28 (of which 2 folding)
Total number of passengers: 69
Declared service life: min. 12 years
Engine power: 160 kW
Fast charging power: up to 150 kW
Backup plug-in charging: The vehicle is equipped with a standardised charging socket type CCS 2.