Twenty Gemilang e-buses starts running in Singapore with Masats doors
Twenty Gemilang electric buses start running on the streets of Singapore equipped with Masats Doors. These 100% electric chassis vehicles made by Finnish manufacturer Linkker and built by Malaysian body builder Gemilang were ordered by ST Engineering for Singapore's LTA Land Transport Authority. The twenty buses, which will now be a part of the large […]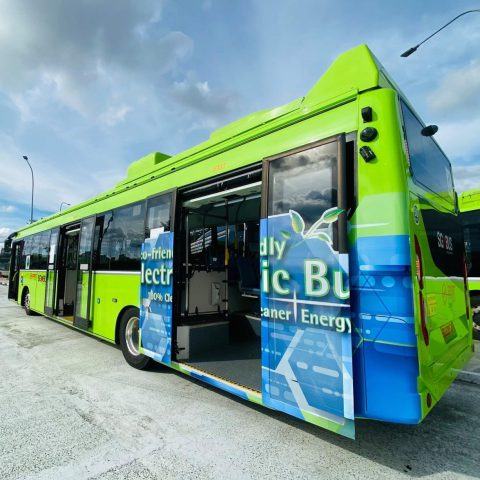 Twenty Gemilang electric buses start running on the streets of Singapore equipped with Masats Doors. These 100% electric chassis vehicles made by Finnish manufacturer Linkker and built by Malaysian body builder Gemilang were ordered by ST Engineering for Singapore's LTA Land Transport Authority.
The twenty buses, which will now be a part of the large LTA fleet in Singapore, will be distributed among the operators SBST and SMRT, thus increasing their fleets of 100% electric-powered vehicles with a view to achieving a 100% cleaner fleet by 2040.
The vehicles feature 3 Masats electric-powered doors for easier and more comfortable access. An 029g model inward swing door was installed at the front and two 028c model outward sliding doors were installed in the middle and back entrances.