IAA Transportation (Sept. 20-25) warm up the engines
Just a few more weeks and the curtain will rise on the 2022 edition of IAA Transportation in Hannover, scheduled for September 20-25. A landmark trade fair for the world of transportation and logistics, which has been revamped to better accommodate instances and players from the bus, commercial vehicle, logistics and transport sectors.In fact, several […]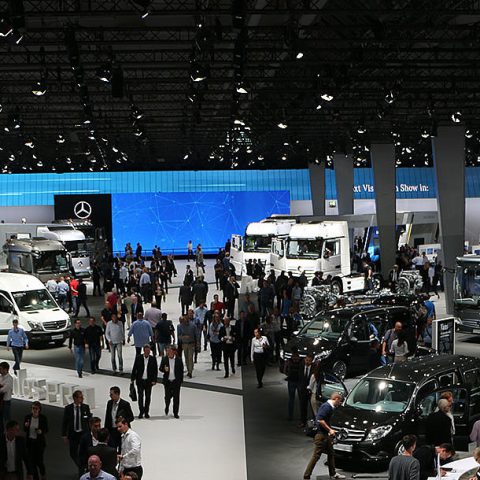 Just a few more weeks and the curtain will rise on the 2022 edition of IAA Transportation in Hannover, scheduled for September 20-25. A landmark trade fair for the world of transportation and logistics, which has been revamped to better accommodate instances and players from the bus, commercial vehicle, logistics and transport sectors.
In fact, several formats have been designed for this event as part of IAA Experiences, which will place greater emphasis on enabling industry visitors to see, test and interact.
Jürgen Mindel, VDA CEO said: «The various IAA Experiences formats, will enable us to offer our visitors the opportunity to test innovative solutions on-site. I am particularly excited about our IAA Last Mile Area and IAA Plug and Play Campus, because with these pioneering IAA Transportation projects we will be able to bring usage events and specific applications to life. This underlines our claim that we have established our new format IAA Transportation exhibition as the most advanced platform for the logistics and transport industries».
A total of 22 heavy commercial vehicles and 39 light commercial vehicles will be available for testing at IAA Test Drives: nearly 50 of the vehicles are alternatively powered, about 90 percent are fully electric and 10 percent are fuel cell. The remaining vehicles use renewable diesel fuel. Test drives will start from the new indoor terminal in Hall 11. Participating manufacturers include MAN, Scania, Volvo Trucks, Volkswagen Commercial Vehicles, Ford, Iveco, Brightdrop and Volta Trucks.
IAA Plug & Play Campus.
ABB, Eon, Elexon, Mahle, Shell Recharge, and Siemens will showcase the latest charging infrastructure and charging solutions for the transportation and logistics industry in Hall 11. The highlight is that the on-site charging infrastructure will be connected and fully functional, so that Test Drive exhibitors can charge their vehicles within the IAA Plug & Play Campus and visitors can learn directly about and see live charging processes. A hydrogen refueling station, where test vehicles can fill up with green hydrogen, and a renewable diesel refueling station round out the offerings.
IAA Last Mile Area
The intricacies of last-mile logistics will be presented in the IAA Last Mile area, with a specific exhibition area: here visitors will also be able to learn about urban distribution, innovations and technical challenges in the Industry Forum and listen to expert speeches and discussions on industry developments. A total of 20 exhibitors will show their products and solutions in the last mile area of the IAA: Allsafe, DriveU.auto, ElectricBrands, Evum Motors, ZF, Gaius Auto, UPS and what3words.
IAA Cargobike Parcours
Cargo bikes are booming in commercial use and are experiencing a huge wave of innovation as a result of major advances in development. The latest models will be presented by Akkurad, Antric, Kleuster, Mubea, Riese & Müller, Rytle, Urban Arrow, Vowag Cargo Bikes, and ZF. Visitors will be able to test them in real-world conditions in the outdoor area north of Hall 26 – with simulations of sidewalks, slopes, uneven terrain.
Guided tours
Between September 21 and 23, visitors will be able to take a guided tour through the IAA Transportation exhibition areas twice a day, in English or German During the guided tours, products, innovative solutions and services will be presented to up to eight exhibitors: visitors can choose from buses, trucks, infrastructure and urban themes.