IT-TRANS 2022, a record-breaking edition: all the numbers of success
IT-TRANS 2022, held in Karlsruhe May 10-12, bringing together 276 exhibitors from the ITS, ticketing and MaaS world was a success, taking home record numbers. Coming then just to the numbers, here are 800 delegates at the conferences, 6,500 visitors to the exhibition, 276 exhibitors (as noted above), 71 participating countries, 28,000 square meters of […]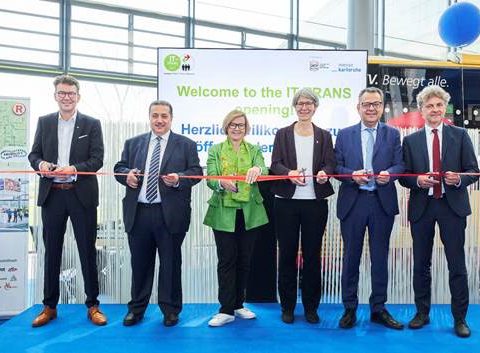 IT-TRANS 2022, held in Karlsruhe May 10-12, bringing together 276 exhibitors from the ITS, ticketing and MaaS world was a success, taking home record numbers.
Coming then just to the numbers, here are 800 delegates at the conferences, 6,500 visitors to the exhibition, 276 exhibitors (as noted above), 71 participating countries, 28,000 square meters of exhibition space (doubled from 2018), and 58 members of the international media.
«The challenges urban mobility faces are best met by collaboration and innovation, making IT-TRANS the perfect opportunity to consider what the future of our sector should look like. The record number of participants shows the desire to focus on the intelligent mobility and digital revolution taking place in public transport. It was my pleasure to lead the UITP delegation for the eighth edition of IT-TRANS». said Khalid Alhogail, UITP President.
Technology is constantly accelerating, and the ongoing digital revolution in public transport was the focus of the latest edition of IT-TRANS. As the largest event of its kind dedicated to information technology and digitization in urban mobility, IT-TRANS brought together the biggest and brightest names in the industry for its first physical edition in four years.
For this year's edition our key topics and themes focused on Mobility as a Service, Contactless Ticketing, Cyber Security and Data Governance, 5G and Telecommunication, Digital Transformation, Artificial Intelligence and Internet of Things, Autonomous Mobility, On-demand and Flexible Transport, Big Data and Artificial Intelligence and Smart Cities. Held under these 10 key themes and topics, the 2022 edition broke records as the most successful edition in years, with extra special moments brightening the programme.
Next stop…2024!