90 Solaris hydrogen buses for the Venice Lagoon
The first Solaris hydrogen buses have arrived in Venice. The four vehicles are 12 meters long-the queen size for urban transport-and represent the green turnaround of the new Avm/Actv, the local public transport company, engaged in urban and suburban mainland. Hydrogen refueling will be provided at the Eni station in Mestre, the first in Italy, […]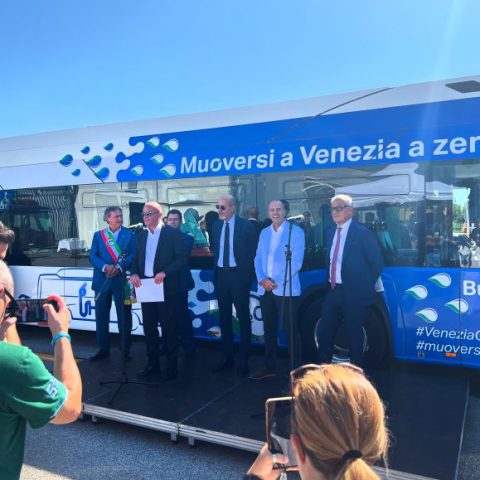 The first Solaris hydrogen buses have arrived in Venice. The four vehicles are 12 meters long-the queen size for urban transport-and represent the green turnaround of the new Avm/Actv, the local public transport company, engaged in urban and suburban mainland.
Hydrogen refueling will be provided at the Eni station in Mestre, the first in Italy, open from June 2022 to the public for the distribution of hydrogen as a fuel gas for the traction of private vehicles and buses. Equipped with a 1,560-liter tank, equal to 37.5 kilograms of hydrogen, the Solaris buses have an electric battery to increase range.
Two of the four Solaris Urbino H2 are funded by the City of Venice for a total value of 1,253,000 euros. The other two are partly financed by the Ministry of Infrastructure and Transport under the Pnrr complementary funds worth about 1,129,500 euros.
The Venetian Mobility Company has ordered a total of 90 hydrogen-powered Solaris buses, including 75 in the 12-meter version and 15 in the articulated version. The contract also includes an option to increase the quantity ordered.