Arthur Bus, the German newcomer brought a 12-meter fuel cell bus at Busworld
Newcomer German Arthur Bus has displayed at Busworld 2023 its H2 Low Floor bus, an hydrogen-powered bus designed for urban transit systems. The vehicle can accommodate 78 passengers. With dimensions measuring 12.015mm in length, 2.527mm in width, and a height of 3.300mm (including the roof plank), the bus weighs 12,545 kg (varying with configurations). Its […]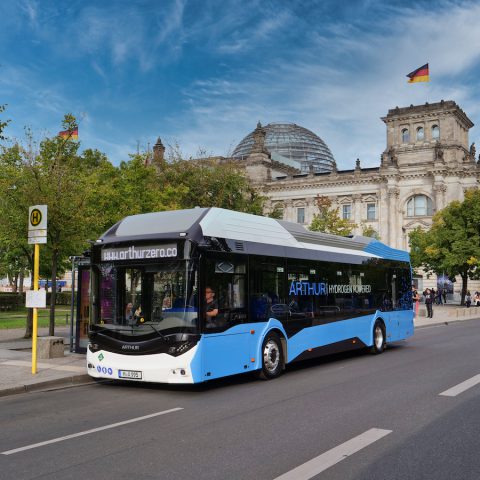 Newcomer German Arthur Bus has displayed at Busworld 2023 its H2 Low Floor bus, an hydrogen-powered bus designed for urban transit systems. The vehicle can accommodate 78 passengers.
With dimensions measuring 12.015mm in length, 2.527mm in width, and a height of 3.300mm (including the roof plank), the bus weighs 12,545 kg (varying with configurations). Its powertrain consists of the proven ZF AxTrax.
Arthur Bus at Busworld
The braking system is equipped with advanced safety features, including EBS (Electronic Brake System), ABS (Anti-lock Braking System), ASR (Anti-Slip Regulation), and a dependable handbrake by WABCO.
Under the hood, the Arthur Bus is powered by a fuel cell delivering a power output ranging from 60 to 125 kW.
To store hydrogen, the bus is equipped with tanks capable of withstanding 350 bar pressure, each holding 37.5 kg of hydrogen. The producer claims a range exceeding 500 kilometers.
In addition to fuel cell technology, the Arthur Bus is fitted with traction batteries with a capacity ranging from 15 to 45 kWh, featuring LTO (Lithium Titanate Oxide) technology.
Arthur Bus offers a comprehensive portfolio. This includes the H2 Zero product line, featuring both 12-meter solo buses and 18-meter articulated buses.
Additionally, the E Zero product line comprises battery-electric buses, including 10-meter and 12-meter solo buses, an 18-meter articulated battery-electric bus, and battery-electric trolley buses.