The French roadshow for CaetanoBus – Toyota fuel cell bus is underway
The hydrogen-powered bus from Caetano is currently in France to do several demonstrations around the country. The first stage was on the 7th in Artois-Gohelle, where the vehicle was presented to the municipality and to the syndicate of transport of Artois-Gohelle (France). The bus also did a demonstration with Transdev Artois-Gohelle. From 14 to 17 […]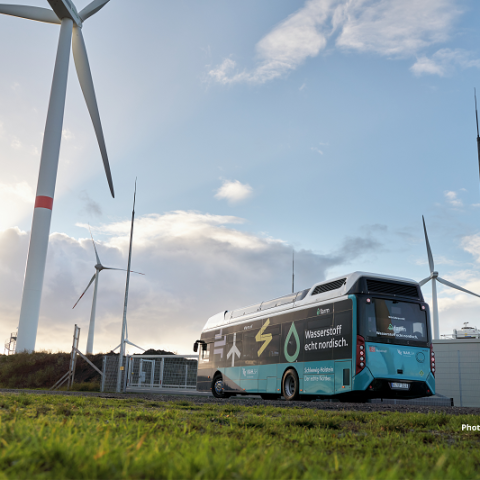 The hydrogen-powered bus from Caetano is currently in France to do several demonstrations around the country. The first stage was on the 7th in Artois-Gohelle, where the vehicle was presented to the municipality and to the syndicate of transport of Artois-Gohelle (France). The bus also did a demonstration with Transdev Artois-Gohelle.
From 14 to 17 November the vehicle has been presented and made available to Le Havre agglomeration, as part of the city's strategy to decarbonize public transport. From the 22 to the 24 of November, the H2.City Gold will be displayed at the Journées AGIR in Nice, where you can visit us, get to know the state-of-the-art vehicle, and talk with the Caetano team.
The Caetano H2.City Gold, equipped with the Toyota Fuel Cell and co-branded with Toyota since last year, is a 12m urban bus and offers a range of over 500km, manufacturer says. The vehicle presents environmental advantages since all it emits is water vapor and it is 100% emission-free. The roadshow will allow CaetanoBus to display to the market the practical operation of the hydrogen technology and obtain real in-use information on daily driving conditions with varying weather, usage, and traffic environments.
For Nuno Lago de Carvalho, Chief Commercial Officer of CaetanoBus, this roadshow is "a great opportunity to show the hydrogen technology in France and to raise awareness for this type of mobility, since it could help us to achieve the decarbonization goals around Europe. France is a strategic market for its importance and dimension, and it is great to hear the feedback from operators and municipalities, so we can work together against climate change".