Coming to Cologne 100 fuel cell hybrid buses by Solaris and Wrightbus
Solaris and Wrightbus will supply the city of Cologne and operator Regionalverkehr Köln GmbH (RVK) with up to one hundred hydrogen-powered fuel cell hybrid buses. «Thanks to the funding from the Federal Ministry of Digital Affairs and Transport and the speedy bidding process, we are making great strides toward our goal of 'zero emissions.' We […]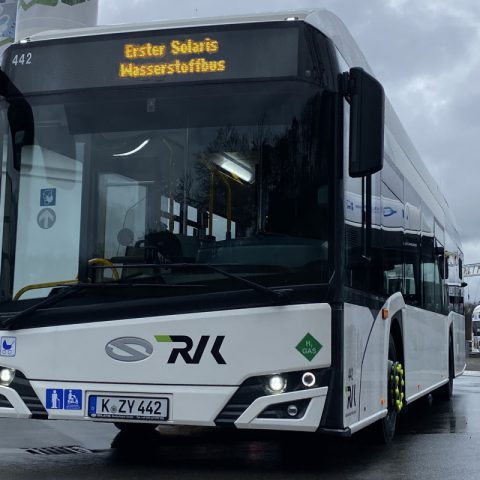 Solaris and Wrightbus will supply the city of Cologne and operator Regionalverkehr Köln GmbH (RVK) with up to one hundred hydrogen-powered fuel cell hybrid buses. «Thanks to the funding from the Federal Ministry of Digital Affairs and Transport and the speedy bidding process, we are making great strides toward our goal of 'zero emissions.' We are looking forward to the delivery of the Solaris buses and new experiences with Wrightbus as another manufacturer-this is of great importance for the conversion of our fleet», said Dr. Marcel Frank, CEO of RVK.
Solaris and Wrightbus are awarded the contract
Solaris Bus & Coach participated in the tender and was awarded the contract for a total of 20 guaranteed and 20 optional fuel cell hybrid buses. According to the current status, the first 20 solo buses will be delivered later this year and gradually integrated into RVK's fleet.
Wrightbus secured the order for 20 guaranteed and 40 optional hydrogen buses under the tender. Delivery of the 20 hydrogen buses – adapted to German conditions – is scheduled for the end of 2023. In the fourth quarter of 2022, RVK is expected to test the first hydrogen-powered articulated buses, which are currently not yet available on the market.
The buses will be funded by the Federal Ministry of Digital Affairs and Transportation under the BMDV's bus and rail funding guidelines. The funding guideline is coordinated by NOW GmbH and implemented by Project Management Jülich.