The first fuel cell double decker buses start operation in Aberdeen
Today is the day of the launch for the world's first fleet of double decker fuel cell buses. They are deployed in Aberdeen (Scotland) by First Bus in a project led by Aberdeen City Council. The vehicles are manufactured by Wrightbus. The city council makes public that plans are in place for Aberdeen to make its […]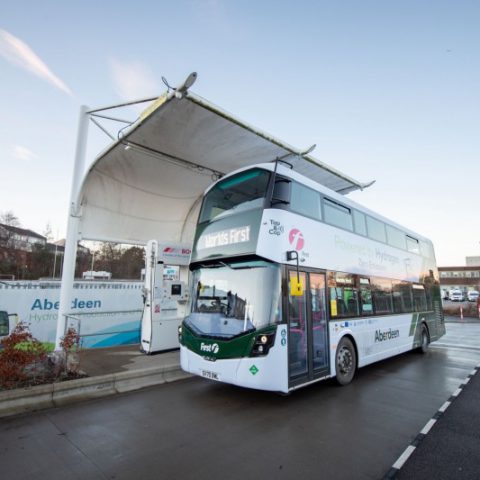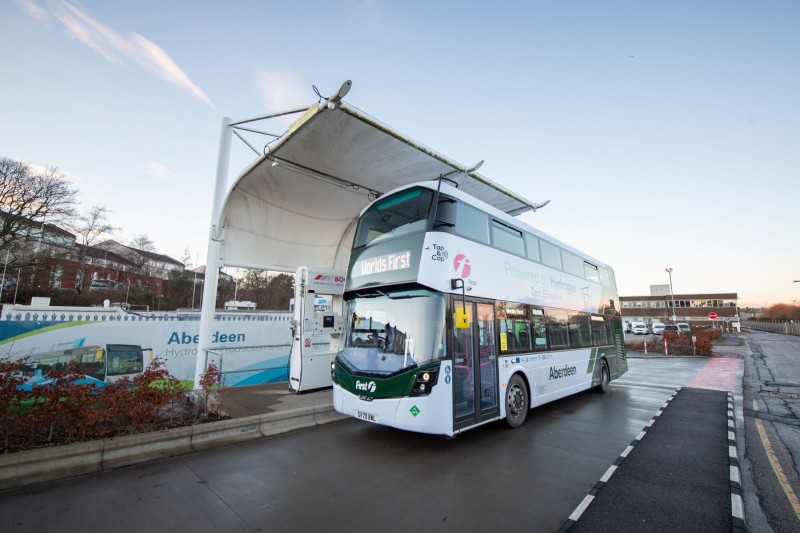 Today is the day of the launch for the world's first fleet of double decker fuel cell buses. They are deployed in Aberdeen (Scotland) by First Bus in a project led by Aberdeen City Council. The vehicles are manufactured by Wrightbus.
The city council makes public that plans are in place for Aberdeen to make its own hydrogen to power the fuel cell bus units, making it an even greener energy source for the local community. First Bus, part of the multinational company First Group which originated in the city, is to run a total of 15 hydrogen double decker buses.

Aberdeen: the first fleet of double decker buses in the world
The new 60-seat double-deckers fuel cell buses are set to transform the air of the granite city as they save one kilogram of CO2 with each kilometre they drive, as Aberdeen City Council underlines. While prototype hydrogen buses have been designed and used previously, as the transport industry explores how it can make use of universe's most abundant element, these double deckers are the first of their kind to go into operation and welcome customers on board.
The new £8.3million project has been funded by Aberdeen City Council, the Scottish Government, and the European Union (FCH JU), with an investment of about £500,000 per vehicle.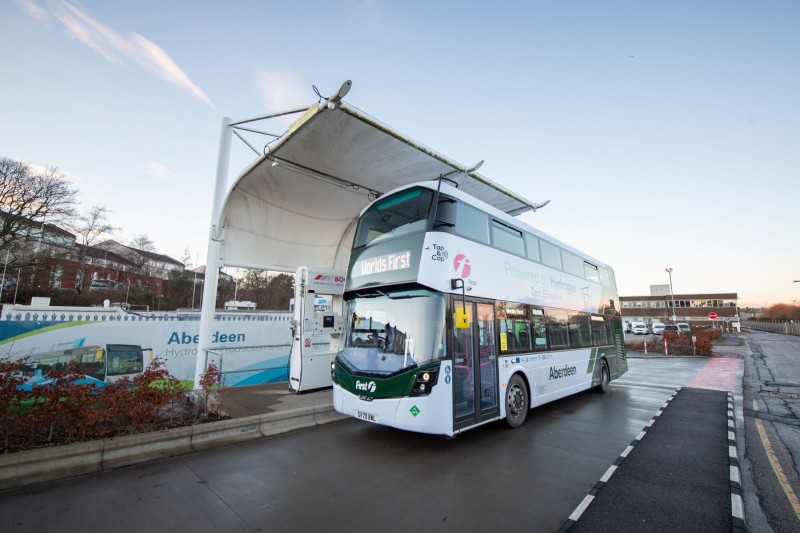 The UK's first hydrogen production and bus refuelling station was opened in Aberdeen in 2015 as part of a £19million green transport demonstration project. The Aberdeen City Council-led project tested the economic and environmental benefits of hydrogen transport technologies and aims to drive the development of hydrogen technologies.
The world's first fleet of fuel cell double decker buses
Aberdeen City Council Co-Leader Councillor Jenny Laing said: "We are delighted to be launching the world's first hydrogen double decker bus fleet onto the streets of Aberdeen. Aberdeen is one of Europe's pioneering hydrogen cities and through the work of Aberdeen City Council, the city has developed a cluster of hydrogen activity and the new double decker buses are a great addition to one of the largest and most varied fleets of hydrogen vehicles in Europe. They have even more advanced technology which pushes established hydrogen boundaries and will greatly assist us in tackling air pollution in the city."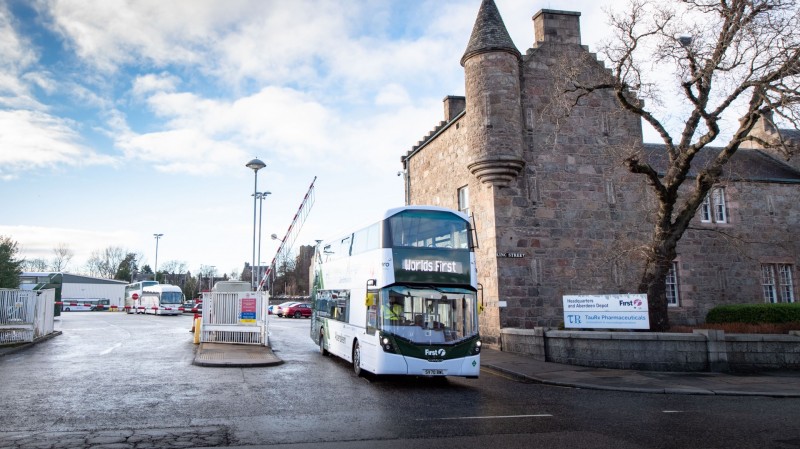 Aberdeen City Council Co-Leader Councillor Douglas Lumsden added: "It is fantastic to see the world's first hydrogen-powered double decker buses being driven about and used by residents of Aberdeen. The buses show our commitment to achieving net zero and support the global energy transition as a climate positive city while cementing our position as a world leader in the energy sector as an economic driver for the city, region, Scotland and the UK."
First Bus operates the first fuel cell double decker buses
Andrew Jarvis, Managing Director at First Bus, said: "Today marks a significant milestone in our industry and the way that people choose to travel. Scotland will be home to COP26 later this year and it is fantastic to know that we'll be setting a stellar example of just what can be achieved with new technology as we welcome leaders from around the world. First Bus serves thousands of customers in Aberdeen and we know that so many of our customers take the bus because they care about our planet and reducing their carbon footprint. We're excited to now be able to offer them an even greener and quieter way of getting about the city."