Hyundai, another step on hydrogen. A fuel cell police bus delivered in Korea
A Hyundai fuel cell bus for the Korean police. The vehicle has been unveiled a few days ago and features large internal space for police equipment. It is powered by a 95 kW fuel cell module with tanks located on the roof and will be tested during 2020. The first hydrogen powered police buses are […]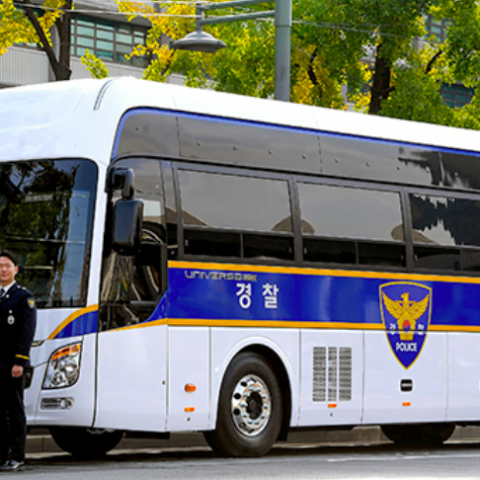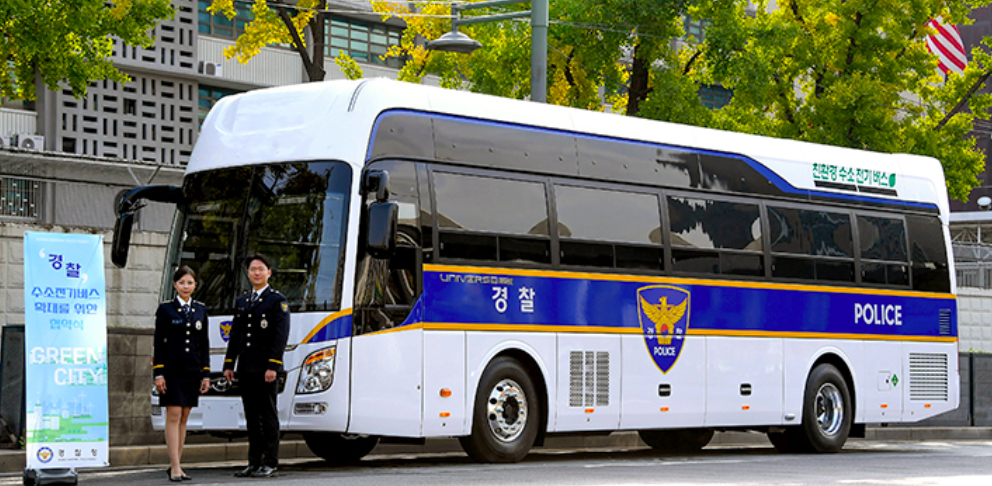 A Hyundai fuel cell bus for the Korean police. The vehicle has been unveiled a few days ago and features large internal space for police equipment. It is powered by a 95 kW fuel cell module with tanks located on the roof and will be tested during 2020.
The first hydrogen powered police buses are expected to officially hit the road in 2021. And by 2028, the government plans to purchase a total of 802 hydrogen buses for the police.
Hyundai has recently signed a deal with Cummins to jointly develop and commercialize electric and fuel cell powertrains combining Hyundai fuel cell systems and Cummins' electric powertrain, battery and control technologies.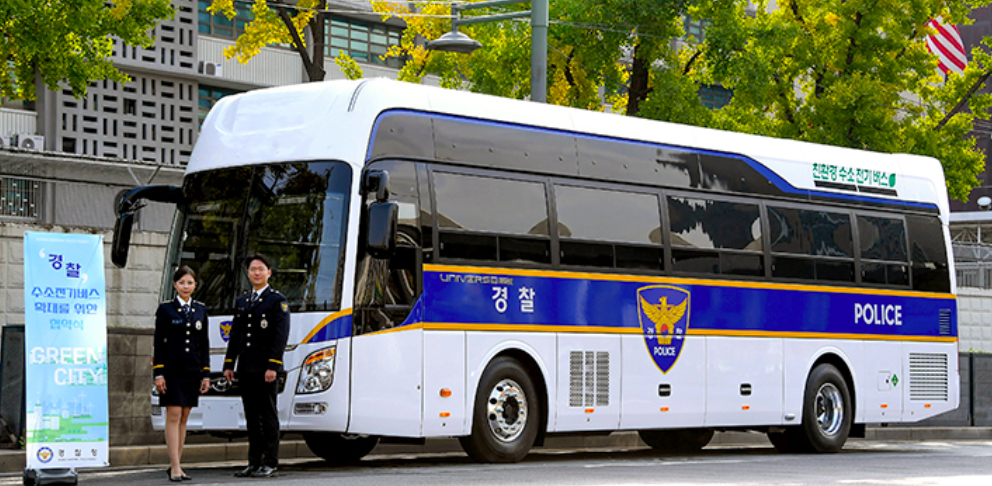 A hydrogen bus for the police
It was announced one year ago that 30 fuel cell buses by Hyundai were to be delivered to six South Korean cities and used for public transport services. A Memorandum of understanding signed by Hyundai and institutions has the goal of deploying a thousand hydrogen buses on the road nationwide by the year 2022.
With regards to the police bus, a test-run of the vehicles will be conducted by 2020 after which production will commence. The hydrogen-powered police buses are expected to hit the roads in 2021.
Hyundai and Cummins to develop fuel cell powertrains
As mentioned above, Hyundai Motor Company and the engine-maker Cummins announced today that the two groups have entered into a memorandum of understanding (MOU) to jointly evaluate opportunities to develop and commercialize electric and fuel cell powertrains. The initial focus will be on North American commercial vehicle market.
These new powertrains are expected to be developed by combining Hyundai's fuel cell systems with Cummins' electric powertrain, battery and control technologies. The companies will also explore ways they can work together to develop next generation fuel cell systems, and have each committed to assign a team of individuals to investigate and pursue other areas of collaboration.
"This partnership is a terrific opportunity for both companies to leverage our respective strengths and create new opportunities to grow and broaden the product portfolio we bring to our customers," said Thad Ewald, Vice President, Corporate Strategy, Cummins Inc. "We've made significant investments over the past year to accelerate our fuel cell capabilities including our acquisition of Hydrogenics and this partnership is another step forward."
"With Hyundai's global leadership in fuel cell systems coupled with Cummins' unparalleled electrified powertrain technologies, we expect this partnership to leave a mark in the commercial vehicle market," said Saehoon Kim, Vice President and Head of Fuel Cell Group at Hyundai Motor Group.
Also, Hyundai Motor Company announced key investments into three hydrogen companies – Impact Coatings, H2Pro and GRZ Technologies – to strengthen its leadership position in the global hydrogen fuel cell ecosystem.