Montpellier scratches the hydrogen bus plan and turns to battery-electric technology (for now). Reason: operating costs
Change of plan in Montpellier: the fuel cell bus project has been scratched, the city now bets on battery-electric buses. A couple years ago Montpellier metropolitan authority sets out the plan to procure around 50 fuel cell buses for deployment between 2023 and 2025. Also the realization of a hydrogen production site based on electrolysis […]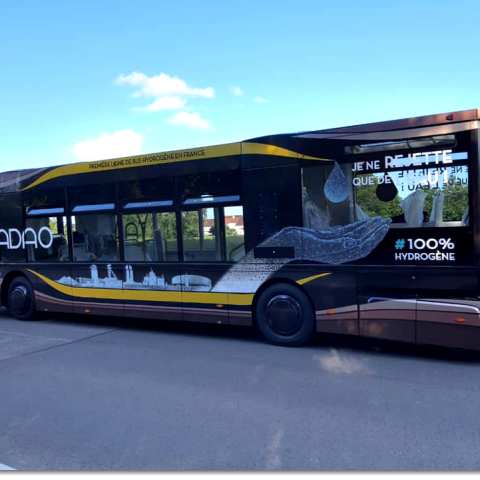 Change of plan in Montpellier: the fuel cell bus project has been scratched, the city now bets on battery-electric buses. A couple years ago Montpellier metropolitan authority sets out the plan to procure around 50 fuel cell buses for deployment between 2023 and 2025. Also the realization of a hydrogen production site based on electrolysis was part of the project.
Now the local authority «has made it official that it is abandoning the purchase of hydrogen buses in favour of electric buses. But it says that it has not totally abandoned the project», reads a report on French newspaper La Tribune, that looks for explanation for such a U-turn (which has been mentioned also on industry platform Electrive).
Montpellier opts for battery-electric buses
The new decision was made public on 4 January during the presentation of the future bus network. La Tribune reports: «The Montpellier hydrogen bus project, called "Montpellier Horizon Hydrogène", had been launched by the previous team at the head of the Metropolis, led by Philippe Saurel. The aim was for the local authority to green its transport system by investing in 51 hydrogen-powered buses for four future high-service level bus lines. 21 of these buses were to be put into service from 2023, then 30 from 2025». The cost of the project was estimated at 29 million euros.
The change of plan is mostly due, according to La Tribune, to financial calculation. Operating costs for fuel cell buses would be over six times higher than the ones for battery-electric buses (0.95 €/km versus 0.15), according to calculations released by Montpellier authority.
It should be added that a recent study by Bocconi university focused on the Italian market stated that TCO calculations (taking together, then, operating costs and investments both for vehicles and infrastructures) gives the results of 1.028 euros for battery-electric buses and 1.986 for hydrogen buses.
The President of the city of Montpellier Michaël Delafosse is quoted as saying on 4 January: "We were helped with fundings on the investment, not on the operation".