New order for up to 107 H2 buses for New Flyer by RTC
NFI has received its third zero-emission contract from Regional Transportation Commission of Southern Nevada (RTC) for up to 107 New Flyer fuel cell electric buses to expand sustainable, high-capacity mobility. RTC's public transportation system provides more than 64 million passenger rides annually in the Las Vegas Valley. RTC awarded New Flyer a five-year contract with […]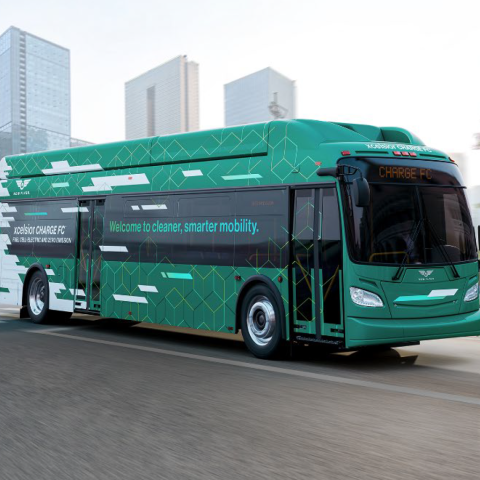 NFI has received its third zero-emission contract from Regional Transportation Commission of Southern Nevada (RTC) for up to 107 New Flyer fuel cell electric buses to expand sustainable, high-capacity mobility. RTC's public transportation system provides more than 64 million passenger rides annually in the Las Vegas Valley.
RTC awarded New Flyer a five-year contract with an initial order for seven 18-meter Xcelsior CHARGE FC zero-emission, hydrogen fuel cell heavy-duty transport buses, as well as an option to purchase up to 100 busesduring the life of the contract.
New Flyer's Xcelsior CHARGE FCs.
The new-generation, high-capacity Xcelsior CHARGE FC buses will operate on the RTC's Maryland Parkway, a 13-mile bus rapid transit route designed to expand bus service, reduce air pollution, and improve passenger comfort, safety, and security. Supported by Federal Transit Administration (FTA) funds, the order will also breathe new life into ACCESS2050, RTC's regional transportation plan focused on improving the transportation system in the Southern Nevada region.
"Spanning over 30 years of partnership, we have delivered more than 820 buses to RTC. This contract marks RTC's third EV order awarded to NFI, which once again proves NFI's undeniable leadership in mass mobility electrification", said President, North American Bus and Coach, NFI, Chris Stoddart. Who added: "The Xcelsior CHARGE FC is the most advanced hydrogen fuel cell-electric bus in North America, which can efficiently operate across a wide range of weather conditions while eliminating greenhouse gas from tailpipe emissions. Our advanced fuel cell-electric buses will provide the Las Vegas Valley community with a fully zero-emission mobility solution for a more sustainable future".