Hydrogen buses for Frankfurt: ICB awarded another 10 units to Solaris
Frankfurt-based public transport company In-der-City-Bus (ICB) has ordered further ten hydrogen fuel cell buses from Solaris, is reported on German media Busblickpunkt. ICB's fleet currently includes 29 electric buses, 16 of which are battery-powered, and 13 hydrogen buses (also made by Solaris and ordered in May 2021). The complete conversion of the fleet to electric […]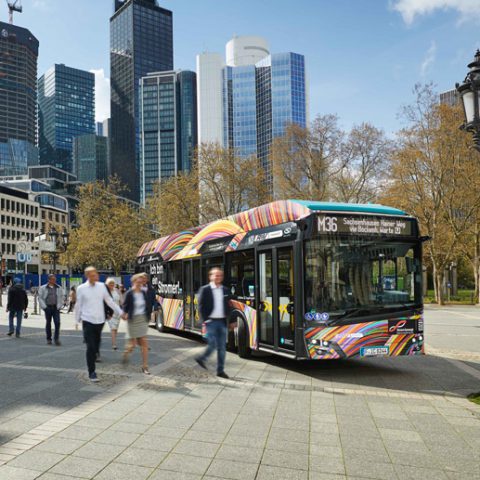 Frankfurt-based public transport company In-der-City-Bus (ICB) has ordered further ten hydrogen fuel cell buses from Solaris, is reported on German media Busblickpunkt.
ICB's fleet currently includes 29 electric buses, 16 of which are battery-powered, and 13 hydrogen buses (also made by Solaris and ordered in May 2021). The complete conversion of the fleet to electric mobility is expected to be completed by the early 2030s.
In early 2021 ICB commissioned a heavy-duty hydrogen station to Everfuel, as a result of a Europe-wide tendering procedure. 
The buses will be used on inner-city line 64 in Frankfurt, which is set to be converted to emission-free operation by spring 2024.
Solaris hydrogen buses for Frankfurt
The investment sum for the buses is around €6.5m, with €2.88m coming from the Federal Ministry of Digital Affairs and Transport as part of the directive for the promotion of alternative drive systems for buses, Busblickpunkt says. The project is also financed by Next Generation EU funds.
Frankfurt aims to be climate-neutral by the early 2030s.
The Solaris Urbino 12 hydrogen buses feature a modern heating system powered by a heat pump. The buses are also equipped with driver assistance systems, including MirrorEye, a camera system that gives drivers better visibility and improves manoeuvrability in urban traffic.
ICB Managing Director Martin Hulecki is quoted as saying that the new buses will "reach another important milestone in fleet electrification."