Soon to be approved Safra's first hydrogen retrofit kit
After announcing it in October 2022 at the Autocar Expo show, Safra is set to unveil its first hydrogen retrofit kit during Hyvolution, scheduled for Paris Porte de Versailles Feb. 1 and 2.Announced last October at Autocar Expo, the company is now in the running for approval. The H2 retrofit kit proposed by Safra, registered […]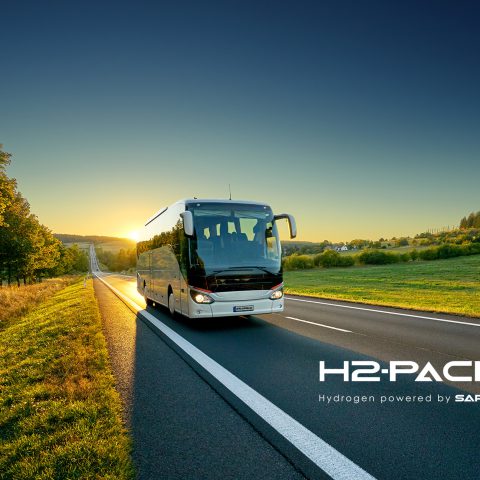 After announcing it in October 2022 at the Autocar Expo show, Safra is set to unveil its first hydrogen retrofit kit during Hyvolution, scheduled for Paris Porte de Versailles Feb. 1 and 2.
Announced last October at Autocar Expo, the company is now in the running for approval.
The H2 retrofit kit proposed by Safra, registered under the brand name H2-PACK®, and supported by ADEME, the French Agency for Ecological Transition, is a real technical achievement which enables the transformation of a diesel coach into a Zero Emission vehicle running on hydrogen and emitting only water vapor.
Hydrogen retrofit by Safra
The certification phase is underway, including a vehicle rollover test as part of the final validation stages of the H2- PACK® kit. The operational safety studies have already been carried out during the design phase. Performing all safety tests, including passenger safety, is for Safra a guarantee of quality and safety for its customers. Thus, upon completion of the acceptance tests and the reception of the type approval, Safra will be able to launch the hydrogen retrofit of the first batch of vehicles with an industrial approach.