Toyota, CaetanoBus and Gp Joule for green (hydrogen) mobility
Shared ecosystems for green hydrogen-powered mobility. This is the goal of Toyota's work together with Gp Joule (a provider of 100 percent renewable energy system solutions) and bus manufacturer CaetanoBus. With their complementary expertise, the three companies cover the entire hydrogen mobility value chain, from green hydrogen production to distribution and refueling infrastructure to its […]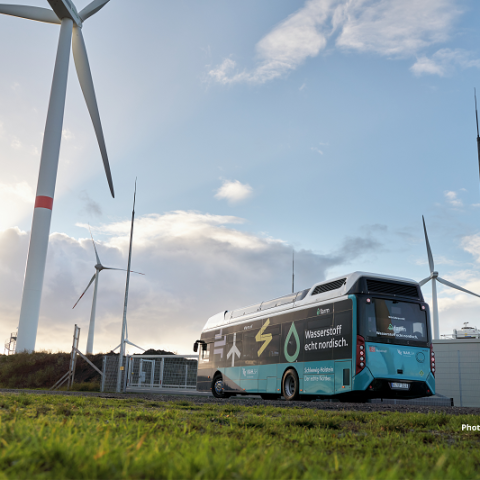 Shared ecosystems for green hydrogen-powered mobility. This is the goal of Toyota's work together with Gp Joule (a provider of 100 percent renewable energy system solutions) and bus manufacturer CaetanoBus.
With their complementary expertise, the three companies cover the entire hydrogen mobility value chain, from green hydrogen production to distribution and refueling infrastructure to its use in various vehicle segments. In addition to passenger cars, the initial focus is on buses and light commercial vehicles (in the future, expansion to heavy trucks is conceivable).
Cooperation between the three companies aims to increase both hydrogen supply and vehicle demand: in addition to adequate infrastructure and refueling stations, integrated vehicle offerings for customers such as cab and fleet operators and local authorities are important.
«We are excited about the opportunity to combine our strengths and promote the development of hydrogen clusters. Toyota brings its proven applications and products to the ecosystem. By working with our partners, we aim to accelerate and intensify the use of green hydrogen in favor of CO2-neutral mobility. This will gradually reduce the cost of hydrogen and its infrastructure and thus form the basis for many future business models», explains André Schmidt, President of Toyota Deutschland GmbH.
«Green hydrogen is of central importance for climate protection and the energy transition: As a climate-neutral, versatile energy carrier, it replaces natural gas, oil, and coal in numerous applications. The mobility sector in particular must switch from fossil fuels to green alternatives for a successful energy transition. Gp Joule is pleased to partner with Toyota and CaetanoBus to provide 100% green hydrogen locally at hydrogen refueling stations. Such partnerships are essential to creating efficient ecosystems that further drive the expansion of hydrogen mobility», adds André Steinau, Managing Director of Gp Joule Hydrogen GmbH.
"We are aware of the responsibility of the mobility sector in this mission and our goal as a bus manufacturer is to continuously develop new hydrogen buses to reduce the CO2 footprint in cities. If we can do this in partnership to create a complete ecosystem, all the better because energy transitions are only effective when they are aligned between companies, countries, and policies," says Patrícia Vasconcelos, CEO of CaetanoBus.