Yutong delivers 25 fuel cell buses for the Winter Olymplics in Zhangjiakou, that will take place in 2022. Yutong declares a range of 500 km and 10 – 15 min hydrogen refueling time. The China based manufacturer won in January 2018 the bid for 25 fuel cell buses 12 meter. The other winner of the procurement bid was Foton, which won an order of 49 units Foton AUV 10.5-meter. All the 74 fuel cell buses are scheduled to hit the roads in Zhangjiakou early this year.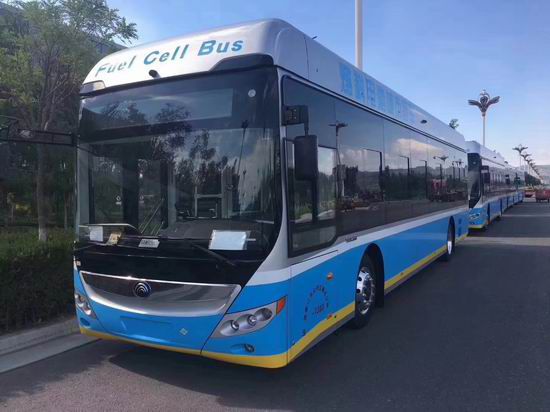 Yutong fuel cell bus, 500 km driving range
As the host city of the 24th Winter Olympic Games, Zhangjiakou, in Hebei province of China, aims to create a green winter Olympics and is committed to taking the lead in applying leading-edge hydrogen fuel cell buses, states the press release by Yutong. The delivered vehicles are the 3rd-generation hydrogen fuel cell bus independently developed by Yutong. The whole vehicle, says the manufacturer, features zero emission, 500-kilometer driving range and only 10~15min hydrogen refueling time. The vehicle can achieve startup at the temperature as low as -30 °C. Similar features have been declared by Foton for its AUV. In Europe, Solaris Bus & Coach announced that in 2019 it'll unveil Solaris Urbino 12 hydrogen, a new generation vehicle deriving power from a hydrogen fuel cell.
More than 90,000 km for Yutong fuel cell buses
As of July this year, the reliability verification mileage for Yutong hydrogen fuel cell buses has exceeded 90,000 kilometers, effectively verifying the reliability of fuel cell system, hydrogen system, DC/DC voltage converters and integrated vehicle control. In addition, the vehicle's specification has been fully upgraded. The 360° surround view system, air suspension system, barrier-free access and so on are added on the vehicle, making it much smarter and safer and adding a touch of brilliant color to the Zhangjiakou Winter Olympics.