Bremen chooses the Mercedes Citaro: 39 electric and hybrid buses on the way
Mercedes-Benz handed over five eCitaro buses to Bremer Straßenbahn AG (BSAG), and immediately afterward the transport company ordered another 15 Mercedes-Benz eCitaro as well as 24 Citaro G hybrid buses. BSAG received 65 Mercedes-Benz Citaro (solo and articulated buses as well as Citaro G hybrid buses) this year and the last. Now five fully electric-powered […]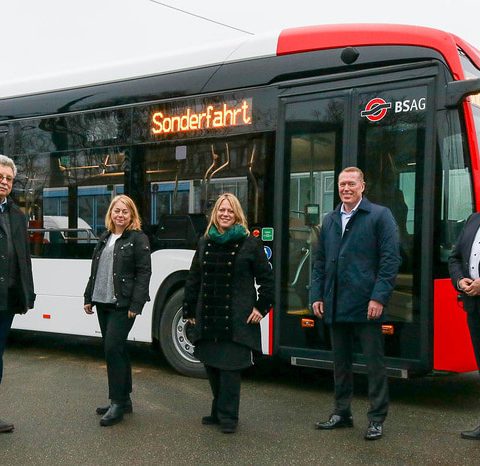 Mercedes-Benz handed over five eCitaro buses to Bremer Straßenbahn AG (BSAG), and immediately afterward the transport company ordered another 15 Mercedes-Benz eCitaro as well as 24 Citaro G hybrid buses.
BSAG received 65 Mercedes-Benz Citaro (solo and articulated buses as well as Citaro G hybrid buses) this year and the last. Now five fully electric-powered eCitaro buses are following. The three-door low-floor buses will operate quietly and emission-free in the port city. Using innovative solid-state batteries, the buses have an impressive battery capacity of 441 kWh. Charging sockets on the left and right side will increase flexibility at the bus depot. Daimler Buses is also contributing the charging infrastructure for the five city buses with five fixed charging stations and three mobile units.
In the fully air-conditioned city buses, passengers will sit on fabric-covered City Star Eco seats manufactured in-house by Daimler Buses. Different upholstery colors in gray and red as well as interior walls with needle felt covering will create a cozy ambiance. A special feature is the wheelchair lift at door one. Also noteworthy are two special use areas for wheelchairs and strollers as well as side folding seats opposite door two. The Sideguard Assist turning assistant will provide assistance to drivers and protect vulnerable road users.
Rüdiger Kappel, Head of Fleet Sales Germany at Daimler Buses, handed over the new eCitaro buses to BSAG Board Member Matthias Zimmermann in the presence of Dr. Maike Schäfer, Bremen Senator for Climate Protection, Environment, Mobility, Urban Development and Housing Construction. Kappel said, "We are delighted that Bremen has once again opted for the eCitaro and Citaro following on from recent orders. We are happy to contribute to making the attractive Hanseatic city an even better place to live."