Electreon wins tender for electric road in Trondheim, Norway
Israeli wireless charging solutions provider Electreon has won a tender in Trondheim (Norway) for implementation of a wireless Electric Road System (ERS) for charging a bus wirelessly. The route will be managed by AtB AS. The picture shared by project partners portrays a Van Hool 24-meter Exqui.City trambus: 58 units were ordered in 2018 (actually hybrid […]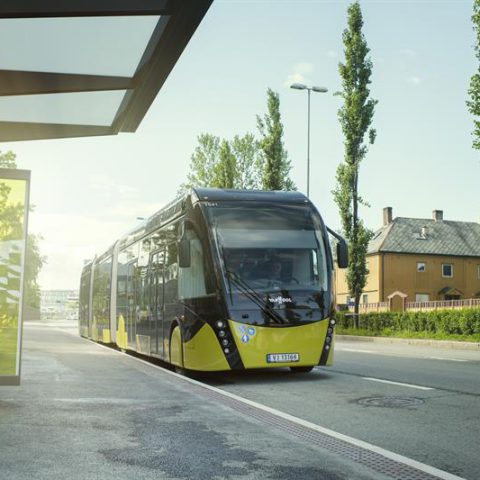 Israeli wireless charging solutions provider Electreon has won a tender in Trondheim (Norway) for implementation of a wireless Electric Road System (ERS) for charging a bus wirelessly. The route will be managed by AtB AS. The picture shared by project partners portrays a Van Hool 24-meter Exqui.City trambus: 58 units were ordered in 2018 (actually hybrid diesel-electric models…).
The tender was awarded by the Transportation Authority of Trøndelag County. The project deployment will begin in the summer of 2024.
The ambitious long-term vision of AtB is to establish an electric road in the city of Trondheim, making it accessible to all fleets as a shared charging platform for AtB's buses, e-trucks, and e-taxis.
Electreon: an electric road in Trondheim
The initial phase will include an Electric Road section, located on a public road next to AtB AS main bus depot, and will involve a comprehensive series of tests, and thorough evaluation of Electreon's charging capabilities in both drive and stop modes. "These tests aim to demonstrate Electreon's resilience and reliability, guaranteeing its ability to perform optimally in real-world conditions as a key energy provider for AtB's BRT lines. This project marks the initial phase of AtB's preparation for its Metro/BRT bus contract", Electreon explains.
AtB, is responsible for planning, purchasing and developing public transport services to the region and is fully owned by the Trøndelag County Authority. The PTA purchases transport services to the value of approximately 200 million euros annually. The Transport Authority has an exceptionally advanced and expansive public city and regional bus network. The rapid transit routes have become the backbone of the bus network in the county. Each bus is 24-meters in length, with a current carrying capacity of up to 159 passengers.
Electric road in Trondheim, with reduced bus' batteries
By utilizing Electreon's ERS product to electrify the bus route, the supplier highlights, it becomes possible to reduce the size of the bus's battery, increasing the sustainability of the project. Furthermore, the system is designed to charge the buses reliably in any weather or terrain conditions, enhancing the overall efficiency and resilience of the electrification endeavor.
"Inductive charging of vehicles in motion can be an important technology for the transport sector. This project will be most relevant for buses and lorries. The project will provide important knowledge for the coming bus tender in the greater Trondheim area, in operation by 2029. We want to contribute to reducing the barriers for making use of inductive charging under challenging winter conditions and learn how to make it successful", says Konrad Pütz, Director of Transportation, Trøndelag County authority.
"We are thrilled to have been selected as tender winners. Norway has built out an extensive public charging network, and we are thrilled to add Electreon's cutting-edge technology to their portfolio," said Maher Kasskawo, Business Development Manager for Electreon in the Nordics. "We believe Electreon's wireless charging will not only meet but exceed expectations in supporting clients with a seamless transition to electric buses. Our solution ensures that this transition maintains the operational efficiency of the bus fleet while reaping the benefits of sustainable transportation with reduced battery size and weight. It is an honor to be part of this project and demonstrate the strengths of our technology in the harsh winter tests." Maher Kasskawo went on to say.